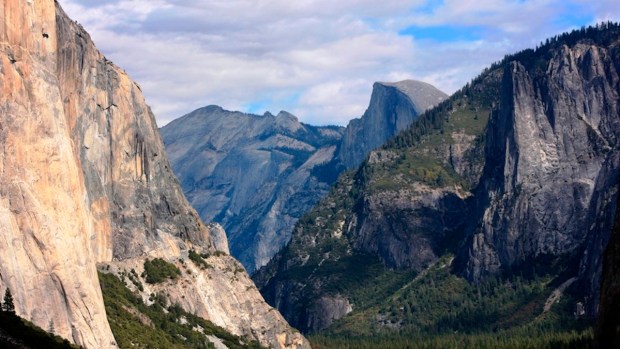 AP
The Range of Light Film Festival celebrates 150 Years of Yosemite, and more adventuresome movies, from Feb. 27 through March 2.
NATURE ON SCREEN: One of the nicest moments of a go-go-go, typically hectic film festival, is landing, quite suddenly, in a theater that's about to show a film set in the outdoors. A calming sense of relief settles around you, in your seat, and you can almost believe you smell wafts of pine over the lingering eau du popcorn in the air. Why is this? That a nature doc or feature can be medicinal, even if you've been enjoying the larger film festival and all of its kaleidoscopic offerings? Our theory, and it is probably one of the easiest, least controversial theories you'll come across this year, is this: Film festivals ask that people be indoors, over and over and over. You're with a lot of people, frequently in tight rows, and that can go on for days, if you're fully committed to the entire enterprise. Thus a work set on a cliff or beach really does feel extra escapist, full of wind, and joyful. But what of the film festivals that embrace that spirit with each movie shown? The Wild & Scenic Festival in Nevada City walks that route, as does the Range of Light Film Festival, which will unspool over the very end of February 2014 into the start of March. And as for the location?
THE YOSEMITE VALLEY VISITOR CENTER: Need we say more? Yes, we need, but of course this festival will be about meadows and mountains and adventure and big ideas. The 2014 offerings are pretty winsome, from "Love in the Tetons" -- great name -- to "The Sufferfest" which details the lure of 14,000-foot peaks. Not all of the films are new, but they're all themed to outdoorsian pursuits, in general. Oh, and the larger theme of the 2014 festival? There is one: 150 Years of Yosemite. Jelly Bread, the fest's "favorite soul and funk collective" will play, and there shall be panels, too. Oh, yeah, and El Capitan, and Glacier Point, and the river, and the meadows, and the Big Trees, practically a toot and a whistle outside the door. How many fests can claim that? Let's just call Range of Light the uncrampiest, wide-space-iest movie gathering in all the West. It has to be, with Yosemite just outside the screening room.