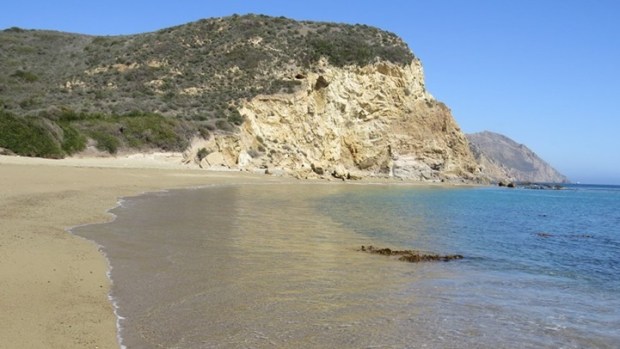 Island Packers
Island Packers'll turn a boat towards Willows Anchorage, "a new destination on Santa Cruz Island." The date is Saturday, April 26.
CALLING ANY PART... of any island "fresh" or "new" or "now" is bound to summon a smile from most listeners. Hunks of ocean-surrounded land, for the most part, have been around for a few years, doing their whole growing-of-flora, supporting-of-fauna, spanning-the-eons thing while subtly eroding with the tides or changing due to volcanic activity. But? But. But saying there are newer beaches and coves that rarely receive visits from we humans is entirely correct. The travel magazine trade does very well on this idea, frequently putting a sultry shore on its cover with words "unspoiled" somewhere in the copy. Those sandy stretches, though, aren't all thousands of miles away from us. They're a morning's drive from Southern California. Well, Ventura is, and you can hop a boat there, and head out with Island Packers, and enjoy the glorious Channel Islands. Know 'em well? Then here's a twist: The boat company is heading to a new spot on Saturday, April 26.
PREPARE TO KNOW... Santa Cruz Island's Willow's Anchorage, which certainly bears a name straight from a 19th-century adventure novel. Calling it "one of the most picturesque anchorages on Santa Cruz," the area is indeed a pretty one. "Offshore rocks and sandstone bluffs accentuate a pristine white sand beach that sits at the mouth of one of the larger watersheds on the south side of the island." A naturalist will be on the trip, so you can head out and learn about the island's wild side, or you can show with snorkel or scuba gear and dive beneath the waves. "(R)are wildlife sightings" could happen, given that the "water is warmer on the south side" of the island. Want to book your spot? Best do so, new beach seeker. An adult ticket is $65, and there are things to know before digging out your mask and flippers.