worth the drive
Rare Chance: Organ Concert at Scotty's Castle
Hear the famous home's instrument over three special shows.
Monday, Jun 2, 2014 • Updated 10:59 PM PDT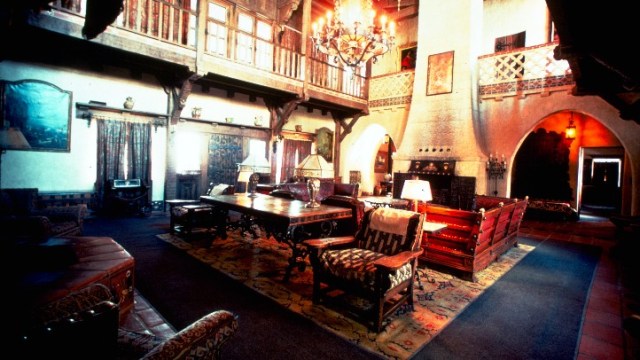 National Park Service
Organist James Welch will play the Welte Mignon Organ inside Death Valley's Scotty's Castle on Friday, June 13 and Saturday, June 14.
THE SOUNDS OF THE DESERT: What are the audio touchstones you associate with a windswept wide open space? The rustling of wind through the canyons? The drip-drop of sudden rain on rocks? A mule's bray or just perfect, vacuum-like silence? What of an organ in a grand and storied mansion? Yeah, that's probably not a sound many of us pin to desert living. And yet it is one of the sounds of Scotty's Castle, in Death Valley National Park. We speak of the castle's rather magnificent Welte-Mignon Organ, an instrument of some reckoning, especially when played inside the rambling former abode Albert and Bessie Johnson (the castle was actually named after Walter Scott, a "man-of-mystery" with fabled ties to the abode). Does the idea of listening to chest-filling. surround-swirling organ music in a historic castle in quite literally the middle of nowhere charm you to bits? Yeah, it should. Mystery and organs and castles and the middle of nowhere stir up something of a romantic fantasy for many people. And many of those people will make for Death Valley, the week before summer begins, to hear organist James Welch play the Scotty's Castle wonder instrument.
DATES AND DETAILS: Friday the 13th should add to the romance -- that's June 13 -- but if you can't make a weekday, there's a concert on Saturday, June 14, too. Concert price is forty five dollars, and there are three times over the two days scheduled. The organ "is played by human hands only once a year," so this is a treat, both for Scotty's buffs and lovers of organ music. And of Death Valley, too. Yep, temperatures should be topping three digits, which makes it all the more mysterious and storybooky. Stirring compositions played with passion and verve, big skies, and one of the hottest places on earth, all meeting up in a desert castle. That's music to our ears.
Copyright NBC Owned Television Stations