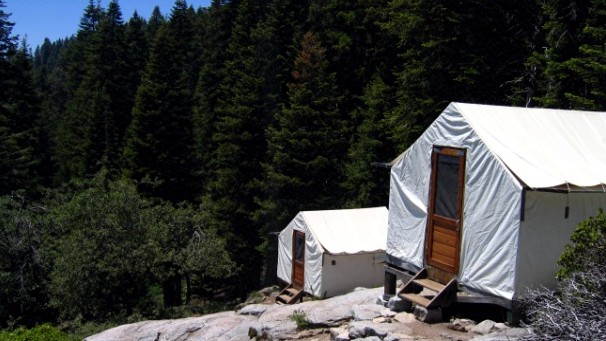 Bearpaw
Ever waited six months for a Bearpaw tent? You have a chance to get into the High Sierra camp quicker this August and September.
RARE CHANCE: If you've ever tried to book one of the tent cabins of the High Sierra, you know it involves luck and timing and maybe a bit of mountain magic. The campsites of this gorgeous stretch book up not simply months in advance but very often a half year ahead of time, meaning that if you want to try and get a couple of nights during the summer, and it is already summer, well. We won't even be sassy and say "good luck," because, in years past, it simply has not happened. But the camping forces for good are smiling upon vacationers who want a little tree-close, comfy-but-rustic R&R during August and September of 2012; Bearpaw in the High Sierra has a few bookings open for a few special days in late summer. That's this summer. Yeehaw! (We wanted an excited exclamation there, and "yeehaw!" rhymes with "Bearpaw," so, you know, we went for it.)
THE DEAL: "(A) legal issue over permits allowing pack mules to transport supplies in the National Park" delayed Bearpaw's opening and changed things up, including cabin bookings, this year. Let's also mention the fact that not only do slots for the six cabin tents fill up six months ahead of time, in January, they always sell out in about two hours. So, about those dates that are now gloriously open: They are Aug. 1, 2, 5, 15, and 26 and Sept. 19-22. We're looking at those last few dates, when the air will surely be a bit brisker in the morning. Are you feeling it? We are. If you love your High Sierra and lucky chances, get moving on this pronto. And here's one more for the road: Yeehaw!