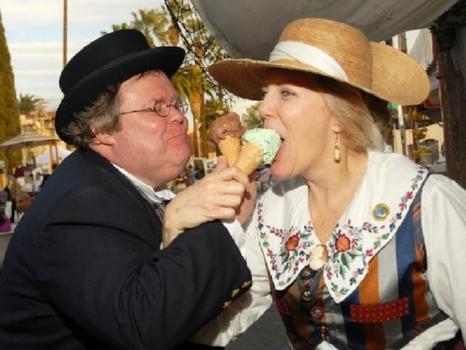 Dickens Festival
Bowlers and ballgowns on, SoCalers: Riverside's annual Dickens Festival parties over the Feb. 22-23 weekend.
THERE ARE TOWNS... around California, and particular neighborhoods, too, that carry the feel of particular decades and eras. Julian? The hill-y burg puts off an 1870s aura, thanks to its period buildings and Old-West-ian past. Hollywood? Whatever newer developments come along, one can't help but think of the 1920s and '30s, especially when gazing upon the Hotel Roosevelt's rooftop sign and the interior of Musso and Frank (which, we know, we know, actually hails from 1919). And what of Riverside? Yes, the Mission Inn has roots in the very early 1900s, but so does much of the city, a general vibe it continues to hold today. Thus when people don hoopskirts and top hats, and parade around, well, it feels normal, natural. So normal, in fact, that it can seem like venturing back to the day of pocket watches and parasols is something Riverside should do every day of the year. It's not done every day, though Riverside does boast a costume-y, do-your-own-thing spirit, but that all changes come February. That's when the Riverside Dickens Festival arrives, tea cup in hand, to have read, promenade, converse, and enjoy a lit-minded gathering.
DATES AND DETAILS: Dressing up is only half of the ye olden times fun. There's always a featured book -- this year it's "The Mystery of Edwin Drood" -- and other to-dos like Victorian dance classes and a pub night. A lecture on the foodstuffs of Charles Dickens's day is on the roster, as are theatricals, children's games, and a bevy of historically minded but convivial-hearted happenings. (Thus if your waistcoat buttons aren't exactly accurate, you needn't worry about being dresssed down.) For all of the Saturday, Feb. 22 and Sunday, Feb. 23 goings-on, brandish your hand fan and plot your course for Riverside, modern-day Victorian.