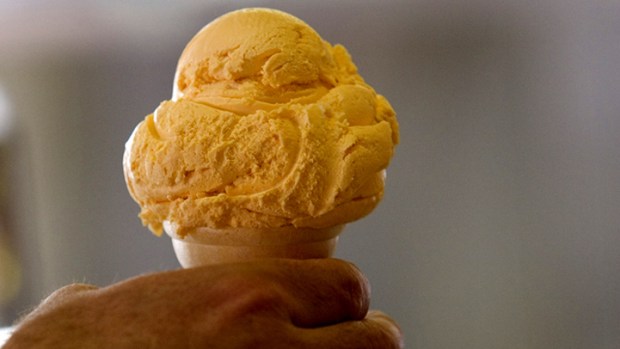 Getty Images
An old-fashioned ice cream social gets scooping in Riverside on Sunday, June 30.
COSTUMES AND COLD STUFF: Stick the word "social" on the end of practically any food-based event and it instantly classes it up. Are we right or are we right? Try it. "Come over for burgers" sounds pretty casual, like people are going to show up in jean shorts and flip-flops, but put "burger social" on the invite and those jean shorts become jeans and maybe even khakis, if things get especially posh. But there's only one foodstuff that regularly proceeds "social" and that's ice cream. And not all that often these days. An ice cream social implies a gentler, lacier, tea-in-grandma's-parlor-type time. It says that the cold treat may show up in silver cups and you may consume it daintily, with a wee silver spoon. Most of all, it says Victoriana, or at least olden times, where people really did participate in ice-cream-socializing on a semi-regular basis. We must pause here to tap our chin and wonder what California city loves its Victoriana so much that it would be the perfect place to throw a modern-day-meets-ye-olden-time social. Why that city would be...
RIVERSIDE: Of course, Riverside, the town that hosts the Charles Dickens festival each February, a fest which is famous for being one of the biggest Dickens to-dos anywhere and for the Queen Victoria sightings (yep, she's there, being amused). The historic hamlet embraces its late 19th-century-ness again on Sunday, June 30 with a pre-Fourth of July ice cream social. The ice cream is the obvious part -- it is in the name, yep yep -- but what else is on the schedule?
WAIT FOR IT: A cotillion dance, musket demos, Victorian games, music entertainment that includes bagpipes and dulcimers, and people in costume. Seriously, this is serious for a sweet-based Saturday. It happens at the Metropolitan Museum's Heritage House. Two things we're liking? One: It'll have a Independence Day thing going, meaning you can start that celebration early. And two? It's the final day of Riverside Restaurant Week, if you want to try that out, too. But can you eat dessert before dinner? Sure you can, if you want. You're not a kid any longer and your parents aren't there. (Or, maybe they will be, and maybe they, too, want to eat dessert first. So build a new family tradition already.)