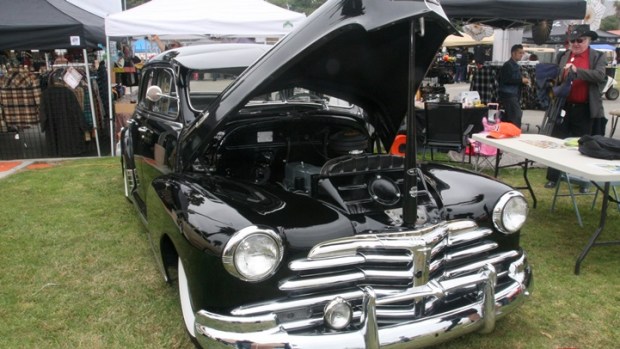 Roadshow Revival
Beautiful fenders, pin-up style, and the music of Johnny Cash? It's Roadshow Revival, and it returns to Ventura on Saturday, June 14.
FANCY CARS, RETRO STYLE: Roadshow Revival, "one of the largest tribute concerts on the West Coast," marked its half decade in 2013. This means that more people, more old-school cars, more pin-up fashions, and more Johnny Cash love is on the rise, as things often are after a solid five years of fanship building. But the rockabilly-country-bluegrass concert, and all of the related happenings, can only expect to grow in year six. Again, the revival spreads out over the better part of Father's Day Weekend Saturday -- that's Flag Day in 2014, June 14 -- and the confirmed music acts are already coming down the pike. The Paladins out of San Diego, country music's Dale Watson, James Intveld, and "the highly energized American music-makers the Snake Oil Salesmen" will be on the stage, with several acts offering a song, a memory, or a few words about the memory of Mr. Johnny Cash, the man the day is built around.
AND OFF THE STAGE? Souped-up automobiles, a pin-up pageant, and rockabilly raucousness rule the Ventura Fairgrounds. We're not sure if someone will drive up in Johnny Cash's Mercedes Benz , which went up for sale in Ventura in January, but you can bet that the cars'll be plenty vintage and plenty loved-on, with oodles of craftsmanship and tender care on display. Also much on display? Wayback fashion, from Brylcreemed pompadours to parasols to ladies rocking the Bettie Page bangs. Roadshow Revival is both a tribute to the Man in Black and one of the alt-country-iest, rockabilly-nicest gatherings in all the West, and it continues to grow. Want tickets? Get 'em now, for $35.