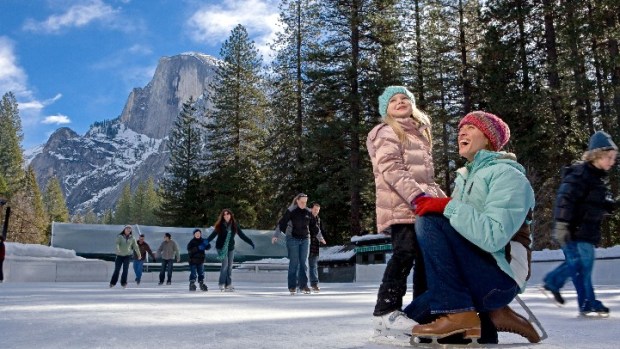 DNC Parks & Resorts
The Curry Village Ice Rink is known for its spectacular views.
CURRY COOL: Curry Village is pretty beloved 'round Yosemite parts. Well, 'round most parts everywhere, really. It could have to do with its funky tent-sweet vibe or that famous low-temperature deal it runs every winter or that the cabins are pert and cozy. But, let's be honest: the Curry Village Ice Rink has one of the planet's most stunning settings. Yep, Rockefeller Center certainly qualifies for that category, but that wins the city-pretty crown. The Curry Village rink? Why, it looks upon Half Dome. We're not going to get cheeky about the views at most ice rinks, because we love ice rink culture, the parents in the bleachers and the packets of hot cocoa and the benches where you change out of your wet socks. But do we want to spend an afternoon pirouetting nearly in the shadow of one of Mother Nature's most famous rocks? Why heck yes. We do.
CURRY COST: It's $9.50 for adults to skate, less for the wee ones, and skate rental is four bucks. It's open through early March. Oh, to be on the Yosemite ice on gray February day, not giving one little thought to the stack of work that awaits you back in your cubicle. Excuse us while we dream.