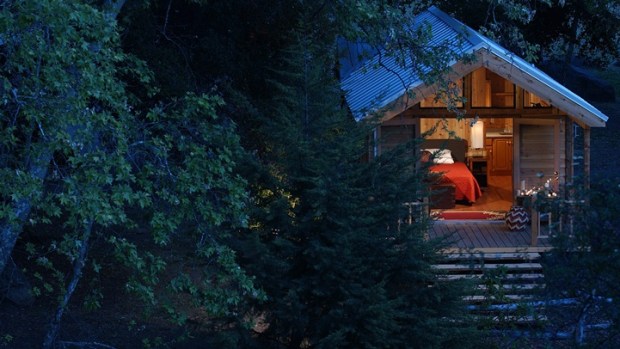 El Capitan Canyon
El Capitan Canyon offers a Romance Retreat Package for Valentine's sweethearts. It's good through March 14, 2013.
FEBRUARY 14, ALL YEAR LONG: There are two kinds of lodging venues in this world. One has to frill it up come the middle of the second month of the year, with little additions that summon the spirit of Valentine's Day (those additions can run the gamut, but picture candy hearts and flowers and such). Then there's the second kind of hotel or stay-over spot. It's a rarer situation, for sure, because of this fact: It always feels like it might be February 14. Oh, it can be July, or September, and 95 degrees out, and that Valentine's feeling is in the air. A lot of additional frippery is not required, in short, because the place pretty much exudes a lavish amount of lovey-dovey-ness (but nice lovey-dovey-ness, we should say, not the gloopy, cloying lovey-dovey stuff). El Capitan Canyon outside of Santa Barbara is pretty much the quintessential February-14-all-year-long kind of spot. Thank its cabins and tents -- cozy and posh, both -- and its commitment to giving couples a truly rustic and relaxing night or two away.
SO WHEN VALENTINE'S COMES AROUND? It's kind of the exact right spot to find yourself in. And, truly, El Capitan, which isn't all that far from the beach, despite its rather woodsy setting, doesn't need to put on the romance packages. And yet they do. This year's deal is called the Romance Retreat Package. A deluxe king cabin (with king bed), gas fireplace, and bathtub are on the inside. Outside? A place to build a campfire and enjoy the complimentary bottle of Queen of Hearts wine. There are additional goodies, like cookies and a candle. It's two nights, it starts at $545, and it is on through March 14 (we love when Valentine's stretches for a full month).