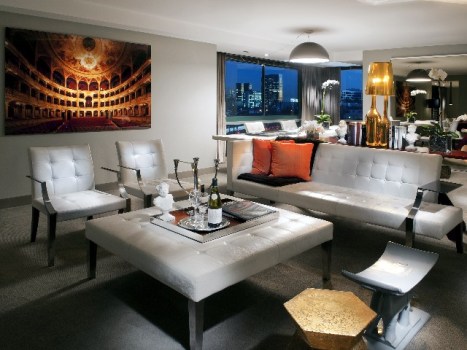 SLS
SLS is offering a posh, no-corners-cut Royal Wedding Package.
ROYAL TIME: Starting any post a week before the wedding of Prince William and Kate Middleton with the words "royal watching is at a fever pitch" is just frankly inaccurate. The fever pitch never truly simmers down when it comes to Britain's royal family, and the pomp and the circumstance. (Pomp and circumstance, two things that never go out of fashion.) So it is no surprise that various spots from California to London are celebrating the nuptials, via special dinners and souvenir offers and, on occasion, a glamorous wedding gown fitting, complete with borrowed jewels. Oh, where is that? Why SLS, which has a Royal Wedding package on for brides-to-be.
BLUE BLOOD: A dress fitting with Jessica Paster is the diamond in the center of the deal; Ms. Paster has outfitted the likes of Cate Blanchett and Rachel Weisz). A chauffeur for the day, a jewel fitting at Asprey (they'll be borrowed, of course, but wear 'em well while you've got them), and a British tea service are part of the the bridely getaway. And a room at SLS, complete with butler and security guard. Security guard! Oh yeah. The cost? $25,000 (and that's the starting point, note). Call the hotel for details (your code is ROYALWED), and get fantasizing, royal-watching, wedding-planning dreamers.