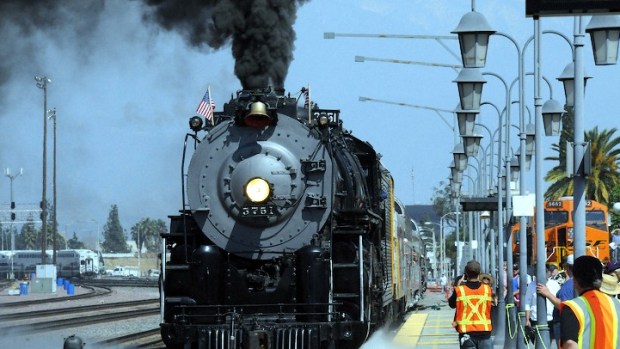 Railroad Days
Railroad Days chugs into San Bernardino on Saturday, April 21 and Sunday, April 22.
TOOT TOOT: Our hearts are going out to Old West buffs who happen to call Southern California home. Oh, not because Los Angeles and its environs doesn't have a ton of informative exhibits and events that deal with all things West -- yep, we're looking at you, Autry National Center -- but because, sometimes, there's nearly too much to do. It's not a complaint other people in other places that don't have nearly as much going on would take kindly to, so we'll cease complaining. But let us offer Exhibits A and B. The Santa Clarita Cowboy Festival'll be rootin'-tootin' it up at Melody Ranch over the Saturday, April 21 and Sunday, April 22 weekend. And over in San Bernardino, in that beautiful historic depot? Railroad Days are chuggin' through over the exact same weekend. What's a chaps-wearing Old West aficionado to do?
DO BOTH: You could, if you planned well and you filled up the tank and you spread the fun out over two days. Since we already gave a nod to the cowboy to-do, let's turn the spotlight on the San Bernardino bash. Steam Engine 3751 will be in the house -- or, er, on the tracks, rather -- as well as modern trains. And, yep, costumed people will be walking around in Stetsons and spurs. Train fans will be plentiful, so expect healthy crowds and entertainment and other warm-weekend-y activities. Check out tickets for the steam excursion and happy travels, cowpoke.