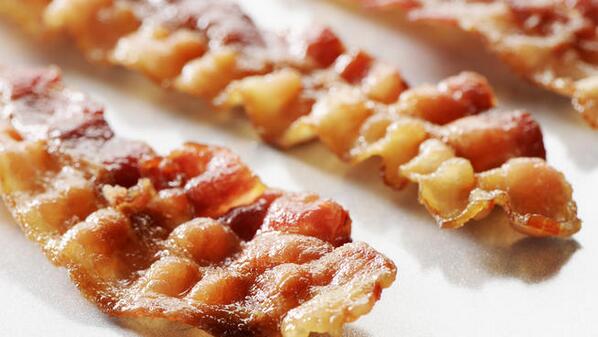 Bacon
Bacon & Barrels gets frying/sipping in San Diego on Saturday, May 31.
BACON PLUS FILL IN THE BLANK: There may come a day when the salty strips that reign over the heartiest meals of the morning are no longer paired with other foodstuffs and random beverages, but we hope that day never arrives. For bacon-plus-you-name-it is such a delightful and delicious trend, and one with legs, that it is hard to see it not running through the full gamut of gourmet pleasures. Bacon and chocolate? Sure. Bacon and Gouda cheese balls rolled in sliced almonds? Want. Bacon and more bacon, on a plate of bacon, with a side of bacon? That seems to work. But bacon and various beverages, whether they be Bloody Marys or beers, seems to be the tasty trend of the day. San Diego, that forward-thinking city in all matters of libation-food combos, certainly thinks so, given that Bacon & Barrels will roll into the Embarcadero Marina Park South on Saturday, May 31.
DEFINITIVE DELICIOUSNESS: Billed as "the definitive outdoor festival for bacon-obsessed foodies," Bacon & Barrels will put the emphasis both on salty strips and beverages that hail from barrels (yep, so think the amber spirits, bourbon, scotch, plus wine and beer). A whole mess of dishes, including bacon-wrapped things, bacon-speckled things, bacon-covered things, and foodstuffs that may contain an element of bacon, will be served alongside potent sips. A competition of the culinary sort and live music from the Stone Foxes fill out the last day in May. So, how serious are you about La Vida Pancetta and all the rasher-focused foodstuffs? Pretty dang serious? See you near the water down south at the end of May. A general admission ticket is $75 and word has it this is an easily sold-out kinda happening. No surprise, because, well, bacon.