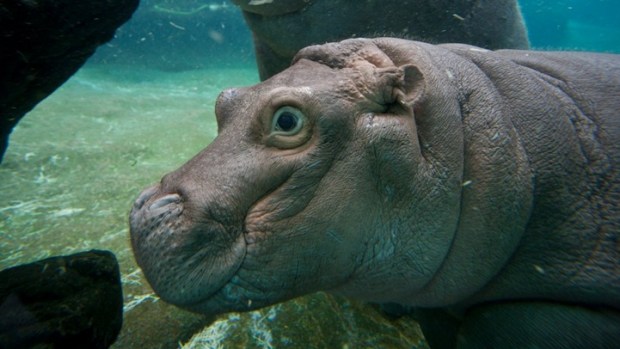 San Diego Zoo
Celebrate the closing of 2012 with this lil' guy and other San Diego Zoo animals during Jungle Bells. It's on at the animal park through Sunday, Jan. 6.
BEASTLY HOLIDAY: There are seasonal traditions we all know and welcome: cookies and television shows and gifts and such. But there are things we see every December that don't necessarily get trumpeted as being a classic of Christmas, though they probably should. Like, for example, the myriad snapshots of pets dressed in reindeer costumes. It's a curious thing, to us, that people want to dress animals as other animals, but charming as well. And it supports the notion that we want our furry companions to be a part of the merry proceedings. But what of animals who call the zoo home? They also get the occasional holiday frippery -- a pumpkin to gnaw on at Halloween or, in the case of the San Diego Zoo, a mondo, multi-week party at the end of the year. Of course, the party is for visiting humans as well, and it provides a good way to see and learn about beasties while engaging in a little yuletide spirit. It's called Jungle Bells and it is ringing at the zoo through Sunday, Jan. 6.
JUNGLE BELLS: Okay, so you might not see faux reindeer antlers atop a hippo or koala, but you will get to see the Conservation Tree Lighting, The Bell Ringer's Welcome at Flamingo's Plaza, the Tinseltown Trolley Light Tour, and Frosty's Jumping Waters. Truly, that's just a few of the goings-on that the zoo has lined up nightly. It's not happening Dec. 24, note. But do note that if you're in San Diego for the holidays, or you're looking for an outing for out-of-towners, this has local cred (the world-famous zoo) and some holiday zing (any of the events above). If you want to imagine a bear wearing a Santa hat you certainly can, but that's as far as we'd go.