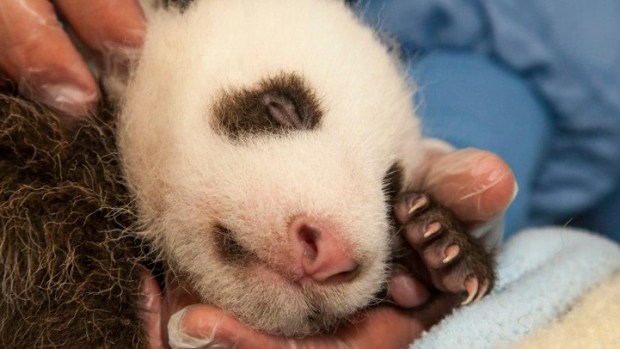 Maria Bernal-Silva
The San Diego Zoo's now-famous panda cub is a boy, vets determined on Thursday, Sept. 6.
THIRD TIME'S THE CHARM: Much of California and a great deal of everywhere else has been watching the San Diego Zoo for news on an animal that is very wee and can't even be seen by visitors. We're talking about the panda cub born to the zoo's Bai Yun on July 29, of course; it has been an instant superstar on the internet, where a panda cam has shown it living a quiet first few weeks with its mother in a private den. We did say "it" there, which is what everyone has needed to say for the last month-plus; veterinarians were not able to determine the cub's gender in its first exam, two weeks ago, nor its second, last week. They did determine it was robust and putting on weight nicely, even though it is one of the zoo's smaller cubs.
But now the news is in: During the cub's third exam on Thursday, Sept. 6, veterinarians made the big discovery: He's a he. It's a boy, trumpeted the zoo's Facebook page, but before heading over to read those fun comments, we advise you to watch this video, which now deserves the hashtag #awwww over every other thing on the internet.