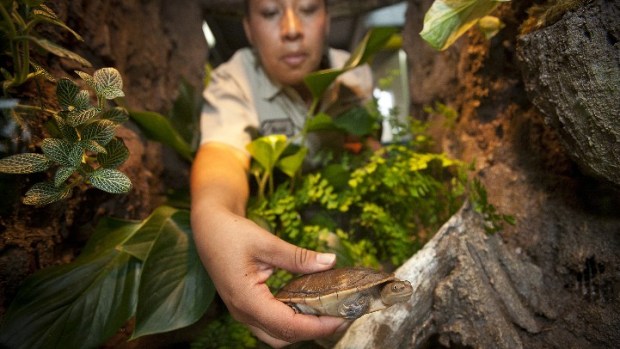 Ken Bohn, San Diego Zoo
The San Diego Zoo's new Reptile Walk debuted on Wednesday, July 4.
SQUEALS OF JOY: Yep, slithery, scaly things have gotten something of a bad rap in popular culture -- how many movies can you name with snakes in the title -- but the long and the longer of it is that many snakes and reptiles need our care, our concern, and all the preservation efforts we can lend. Meaning our squeals? Should be more from joy and less from fear. Helping promote the positive face of reptilia are enclaves like the San Diego Zoo's brand-new Reptile Walk, which made its debut on Wednesday, July 4. If you've been to the world-famous animal institution you probably recall seeing a whole caboodle of frogs and such, so your memory isn't playing tricks; the zoo has long featured reptiles. But the new Reptile Walk puts a special emphasis on some beasties that need special preservation care, like endangered Chinese alligators, which will be featured in the walk. The Roti Island snake-necked turtle, which is pictured above, is another Reptile Walk resident that has been classified as "critically endangered." On a positive note, the zoo has "hatched more than 70" of the turtles, including this little fellow.
ON THE WALK: There are more creatures to see, like mossy tree frogs, leaf-necked geckos, and mountain yellow-legged frogs. Oh, and those Chinese alligators? They have an open-air pool to splash about in. Over 50 species in all now call the Reptile Walk home. See, reptiles? Not so scary and slithery after all. Well, that's not true; they can be plenty slithery and jumpy and crawly, but that's kind of their reptile thing, right? And we love them for it. Admission to the Reptile Walk is included in your San Diego Zoo admission.