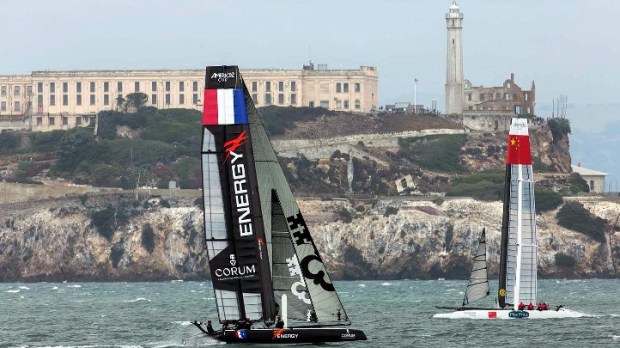 Gilles Martin-Raget
America's Cup boats with Alcatraz in the background; the action starts in the City by the Bay on Tuesday, Aug. 21.
"THE WORLD'S FASTEST BOATS": Many harbors and shorelines are recognizably from the landmarks that cluster near the water. But surely at the top of that list, if you'll forgive the hyperbole, which has, in one direction, the Golden Gate Bridge. A bit over is Alcatraz, and going further round the bay you have the city, with Coit Tower and the Transamerica Pyramid. So when the regal boats of the America's Cup World Series pull into San Francisco Bay, it is rather like two iconic sights meeting, and a field day for photographers. Exhibit A? The photo above. But there'll be many opportunities to cheer on and take snapshots of "the World's Fastest Boats" and "the World's Best Sailors" when the Cup bows in the City by the Bay on Tuesday, Aug. 21.
WHAT'S HAPPENING: San Francisco is set to play host to a bevy of famous boats from Aug. 21 through 26 and again from Oct. 2 through 7. Teams hail from around the globe; Oracle Team USA is the Defender of the 34th America's Cup. Much of the on-land action is centered around Marina Green -- there's a handy map on the site -- and visitors can expect a Puma store, a big screen and stage, a kids' area, a beer garden, and an interactive exhibit and displays bringing spectators new to the sport up to speed on America's Cup and its history. If you do want to see some racing live and in person, and you happen to be close to San Francisco, this may be the year you want to try; the 2013 dates list Venice and Naples as next stops (those would be Venice and Naples in Italy, of course, not Southern California).