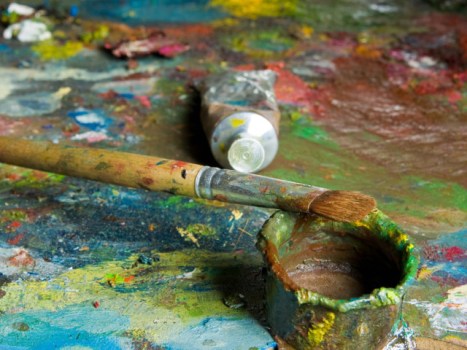 Shutterstock
Saturday, May 7 is artwalk time in Santa Ana.
TO SEE AND TO BUY: The warm temps this week have put many people in a summer frame of mind. Of course we're usually near or within shouting distance of that frame of mind, but with the arrival of shorts weather and May, we're most firmly there. We're not sure what you do once that frame of mind is achieved, but our thoughts turn to free evening strolls, strolls that offer plenty of opportunities to look at interesting and pretty things. Turns out such a stroll is going down in Santa Ana, at its once-a-month Artwalk.
FIRST SATURDAY: The four-block walkabout happens every first Saturday of the month; the next date is Saturday, May 7, and a number of galleries along the 2nd Street Promenade will stay open from 7 to 10 p.m. Participants include SpaceOnSpurgeon, Night Gallery Ceramics, and Mahvash Gallery. The Artwalkians also stress that there will be opportunities to buy art. That's an opportunity that should always be seized most firmly, we say.