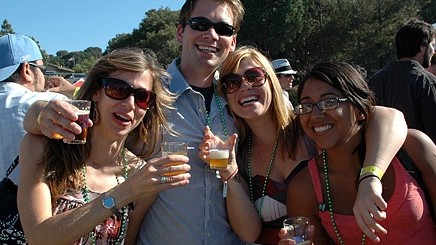 Santa Barbara Beer Festival
The Santa Barbara Beer Festival is on Saturday, Oct. 15.
LET'S START HERE: When you hear about a big brew festival, and we've had our share around these parts in recent months, you probably want to know a few things. Cost, yes, but also setting and who will be there. Let's begin there and work our way backwards. The Santa Barbara Beer Festival, which is happening on Saturday, Oct. 15, will feature a host of California brew houses. Check out this partial roster: Mendocino Brewing Company, Cal Poly Brew Crew, Ventura's Surf Brewery, and Sequoia Brewing Company. Now, the setting: Elings Park. It's a beautiful outdoorsy location for sipping suds. No quibbles with indoors beer festivals, but securing such a setting for a mid-autumn day is truly key. Finally, the cost? Fifty five bucks at the door.
OTHER TO KNOWS: There will be taxis at the park, ready to drive; if that's not your plan, make sure you have a friend with you who isn't imbibing and can take the driving duties. And if you plan to kick around Santa Barbara for a bit more, know that you'll find yourself in the middle of epicure.sb. It's the city's month-long foodie festival, and there are tons of to-dos. Check out what is happening on Saturday, Oct. 15 alone.