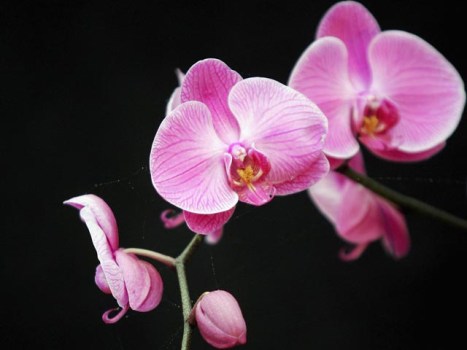 Getty Images
Orchids go on display in Santa Barbara March 11-13, 2011.
ORCHIDIANA: Call the orchid the distant cousin to the daisy. Or any other flower which feels a bit homey, in the best sense, and can be bunched in a pitcher and left for a few days. (Note: Do people still own pitchers, or is that retro thing to think?) When an orchid enters a home, to stay, the occupants feel a presence and grandeur that surpasses pretty much every other bud-based plant in existence. And that new occupant takes a lot of tenderness and care and attention, which are given lavishly, typically. So the fans headed for the Santa Barbara International Orchid Show are perhaps some of the most dedicated flower lovers on the planet.
66TH TIME: Of course, orchidiana, and the study of dendrobiums and cymbidiums, goes way back, and the springtime Santa Barbara show has become one of the premier places to buy and see and admire and meet co-fans. The show's on from March 11-13 at the Earl Warren Showgrounds; a general daily admission is $12.