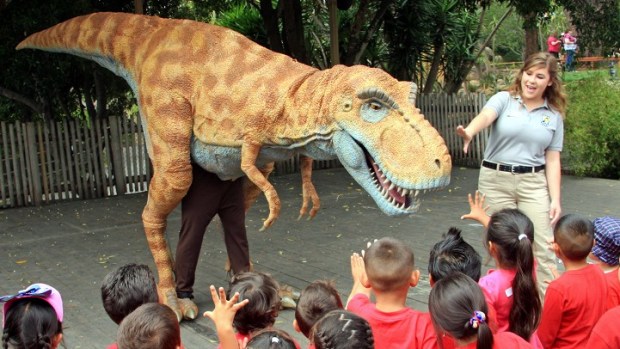 Santa Barbara Zoo
Duncan the T Rex will be rrowring through additional holiday shows at the Santa Barbara Zoo.
WHIMSICAL REPTILE: One doesn't normally pair Christmas and the Jurassic era, but one should. Figure that lots of kids want fun and interesting gifts, and dinosaur models and puzzles depicting ancient, swampy lands are some of the coolest (and, okay, most educational) gifts on the market. But taking the tots to see a real dinosaur? Well, nearly real? That's just about the most wicked awesome thing of all. And you can, at the Santa Barbara Zoo. Duncan, the zoo's latest staffer, is a large dino that teaches youngsters about animal training. Duncan. Do you love it? We never knew the perfect dinosaur name, but now we do. We also know a little secret about Duncan, and you will, too, if you look closely at the photo above. Do you see someone standing inside the dino? Shhhh.
COOL PUPPETRY: It makes us think back to that fantastic saber-toothed cat that visited the Natural History Museum last Christmas season. Remember him? He was a large puppet and he was designed by -- wait for it -- the Henson Creature Shop. So cool. There must be a thing with over-sized prehistoric puppets and educational experiences around the holidays. Duncan is at the Santa Barbara Zoo every weekend, and has been for a few months, but the zoo just sent word that he'll be upping the number of holiday performances starting on Dec. 17. There are some closed dates and such, so you'll want to check it all out before heading up. Rrowr!