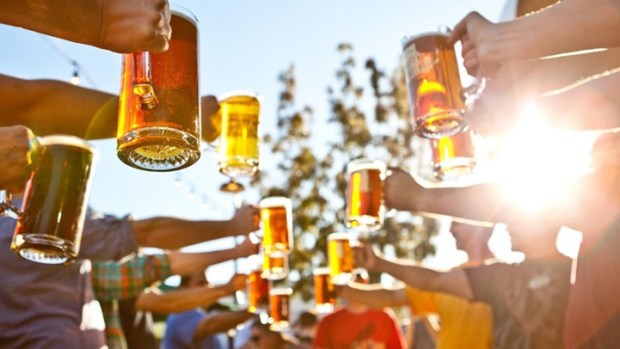 Santa Ynez Beer Month
May is Beer Month in the Santa Ynez Valley.
GOOD AT TWO THINGS: Can you, off the top of your noggin, name the go-to spots for great California wine? Your cheeky answer may be "where isn't a great spot?" or "this one half-acre in Death Valley" or the like. The short of it is we make tanks upon tanks upon rivers of fine vino in the Golden State, and even the newest of wine drinkers can rattle ten wine country towns right off. How about beer? Did you just say "San Diego" and the beer trail? How about the Arts District in downtown Los Angeles or Oakland? Yep, we do the fine brews, too. But just because one region is known for one kind of beverage doesn't mean the other is completely out of consideration. Take the Santa Ynez Valley. True, true, the home to Los Olivos and Solvang and all of those "Sideways"-pretty vineyards is pretty corky -- that was corky, as in cork-laden, not quirky, as in offbeat, though it can be that, too -- and very devoted to wine. But recent years has seen the rise in beer-making, crafty stuff, which means that the region devotes a month -- that was a month, as in four weeks, and not a few days -- to beer deals and the foamy arts. Tempted? Then make your way to Santa Ynez during May, which is Beer Month.
GET YOUR MAP: The tasting rooms around the region -- Figueroa Mountain Brewing Co., The Good Life in Solvang, Firestone Walker Brewing Co. -- aren't simply a Beer Month deal, but taking in a few of the area sip spots is a good way to get a lay of the libation-rich land. A map'll help you out, as will a few descriptions of what's what in the world of Santa Ynez craft beers. But there are a few May-special things, like a craft beer-nice package at Fess Parker, a Lizard's Mouth IIPA & Biere de Menage release party at Figueroa Mountain on May 16, and beer poker every May Sunday at the Solvang Brewing Company. You won't quite forget that wine is a superstar in the area, nor should you, but sometime among the lagers and ales indeed shows that one place can be good at two things.