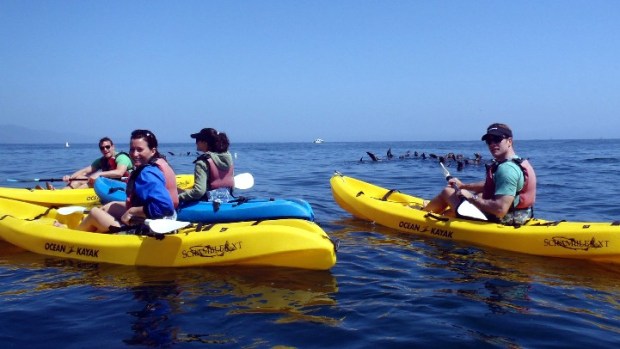 Santa Barbara Adventure Company
Santa Barbara Adventure Company has a last-minute Memorial Day Weekend deal on.
MONDAY MAJESTY: We're days ahead of a three-day weekend, which means either a) you've got your plans cemented or b) you're scrambling to find something to do. (There's probably a "c)" in there, too, which are those people who don't like the plans they've cemented and are currently trying to change them. Good luck, and we mean that, because we've all been there.) This last-minute tip from the visitors bureau in Santa Barbara caught our eye, because the word "sea caves" can always catch our eye. Upshot? The Santa Barbara Adventure Company is offering 30% off a kayaking trip at Santa Cruz Island.
SEA-WORTHY SPECIFICS: The deal is only for Monday, May 30 (Saturday and Sunday were open, too, but there are wind advisories for those days.) A ticket will be $119 (normal price is $170). And there will be sea lion sightings along the way, too. Since you'll be heading out to Santa Cruz Island, you'll need to take a charter boat, but that's part of the package. Read more or ring the Adventure Company to see what else they've got going on, either on land or ocean.