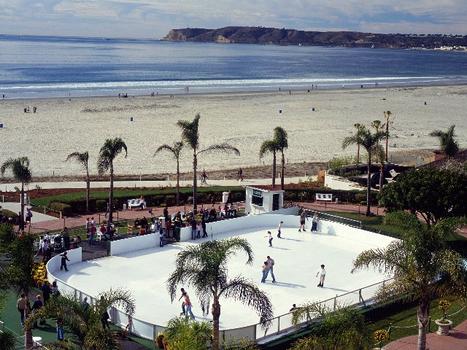 Hotel Del Coronado
Hotel Del Coronado's ocean-close ice skating returns for the 2012 season on Wednesday, Nov. 21.
GOLDEN STATE SCENE: Early tourism advertising for California is so famous that it now merits its own coffee table books and gallery shows. Why, in particular? Because, in part, it went above and beyond in presenting our state as a paradise, a Shangri La where citrus was available for the picking all year long and people never tired of the sunshine. The colors and graphics and fonts of those long-ago posters held those notions up. Of course, it is all mostly true -- it is a bit of a paradise 'round these parts -- but even today there are some California scenes that seem slightly unbelievable. Take the ice skating rink that appears next to the Hotel del Coronado every holiday season. To one side of the sweet square is one of our state's grand hotels. And on the other? The Pacific. It's very much the sort of picture that might have appeared on early California advertising, the kind of picture people elsewhere would have clucked over and claimed wasn't true. An ice rink on a sunny, sandy stretch of Golden State beach? Ha! But indeed it is, at least starting on Wednesday, Nov. 21, when the Del's skating rink opens for the holidays.
MORE HOLIDAY HAPPENINGS: The rink debuts a day before Thanksgiving, which makes sense; the hotel always does a very splashy affair in its historic Crown Room. Cost is $92.50 for an adult, $38.50 for kids ages 6-10. Just feel like skating and skipping the supper? Three hours on the rink cost $25 for an adult, and part of the proceeds will go to Make-A-Wish. The rink is open through Jan. 5.