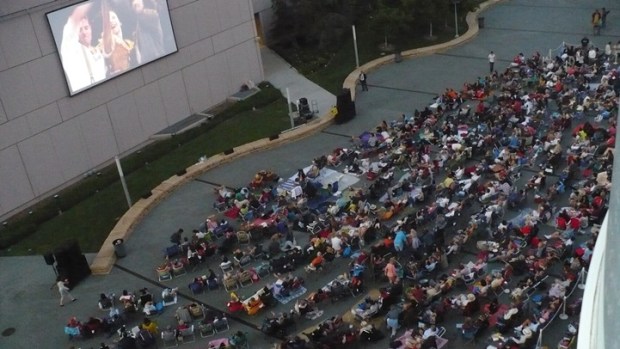 Segerstrom Center for the Arts
Movie Mondays will return this summer to the Segerstrom Center for the Arts. First up, on July 7? Shirley Temple in "The Little Colonel."
A SEASONAL INQUIRY: Why is it that while we all adore free stuff pretty much year-round, we really, really like it in the summertime? Perhaps it is that we're wearing fewer clothes, and with fewer clothes come fewer pockets, and with fewer pockets come fewer ways to store cash. Surely there must be scientific reasoning behind this theory, but we'll go one further and say that summer equals being outdoors, and the outdoors tend to be a pleasure that lands on the pay-no-money-to-enjoy side of the equation. Perhaps? That works by us. This means that many of the al fresco fun times that happen during the summer tend to be admission-free, including one of the biggies of the cinematic Costa Mesa set. We are talking about Movie Mondays at the Segerstrom Center for the Arts, that starry spate of films that runs each Monday night starting around early July. We like it because a) the Segerstrom is terrific and b) free is terrific and c) movies are terrific and d) it is nice of people to think about the start of the week and how we could all use something a little whimsical to goose Mondays.
PLUS... Patina Catering will create "specially themed menus" to match the films. And speaking of the films, "The Little Colonel" with Shirley Temple is first up, on July 7. "Spice World," "Gigi," "Cabaret," and "Sweet Charity" will follow, meaning you can bring the teens up to speed on a few classic musicals. (Wow, is "Spice World" now getting to be in that group? Perhaps, right?) Again, the price? Free. Bring some dough for dinner, and a low chair and blanket, too. Can't you feel the warm-weather good times already? Free Movie Mondays are the kind of summer tradition that make it the easy-breeziest of all the seasons, for sure.