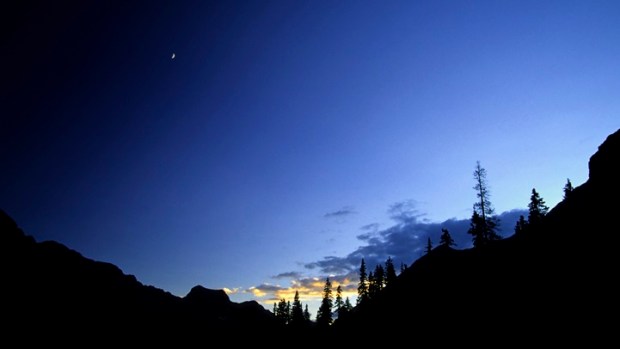 Visit Sequoia
Your day in the sequoias doesn't end at sundown when you book the Night Sky package. Shall there be staring up at stars? You bet.
WHERE TO LOOK: There are national parks made for looking down -- think tide pools and caves -- and national parks for looking into great distances, like those with epic mountain ranges. But a handful of our protected wild places are very much about looking up. Nearly straight up, in some cases, because what you're admiring stretches several hundred feet straight into the sky. We are indeed thinking of the redwoods and sequoias here, and if you've ever spent a quiet hour with a big tree, you know that the sky itself, the area that frames the titan's very top branches, is different. It is framed differently for one, and how you watch clouds move, and stars come out, is impacted by the nearness of the treetops in your immediate vision. Which can make an evening of starwatching among the sequoias a true pleasure and a different pleasure, too. It is good and right, then, when a Night Sky package pops up, meaning you get to see the Milky Way with a wild, earthbound frame of sequoia goodness.
THE NIGHT SKY PACKAGE: Lodging is the first step in the deal, as you'll want to spend the night up the mountain, and you'll have two spots to choose from: The Wuksachi Lodge and the John Muir. Also included are "an astronomy wheel to help you locate and identify various constellations and celestial bodies, flashlight, a throw blanket to stay warm, and a recycled tote bag to carry everything." Ohhh, cozy. Rates start at $175 at the Wuksachi and $159 at the John Muir in wintertime. For sure, it'll be brisk outside, but you'll have that throw blanket, and plus? There is much to be said for a clear and snappy cold-weather sky. Perhaps all of those old-timey almanacs were right: Stars do seem to twinkle brighter when heat isn't around to haze things up. The only thing left to do is find the perfect frame of sequoia tops through which to admire the cosmos.