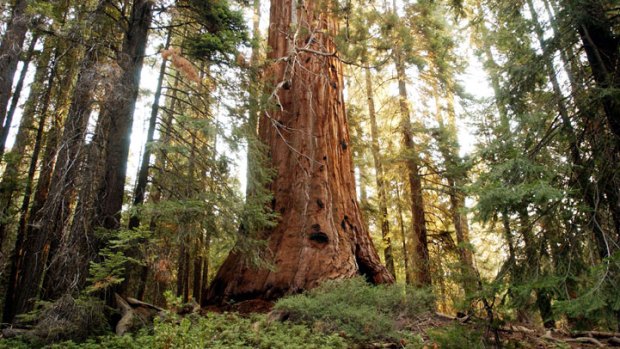 Getty Images
The sequoias? They're huge, magical, and huge. And did we say huge? There's a good way to see them without having to drive yourself.
THAT MOMENT: If you've been to the sequoias, and you entered the national park through the gate near Three Rivers, you likely know That Moment. It's that moment that comes, oh, what, a half hour after you've wended your way up Highway 198, or Generals Highway, and you loop around a corner and there, right there, is a sequoia. Would you mind if we went all caps on that? A SEQUOIA. More grand and more huge and more more than you ever expected, even after looking at all of the videos and the photos and the web sites. A person's first contact with the largest living things on earth tends to be epic (and, yep, we went with "first contact" there, which we know is typically reserved for extraterrestrial contact, but these trees are pretty cosmic). So, do you want to be in the driver's seat for that moment? Busy driving? If you have to be you have to be. Understood. Or, just maybe you can hop aboard the Sequoia Shuttle, where you're able to put all your effort into just looking and experiencing.
SEQUOIA CAR-FREE: The shuttle is available for booking regardless of where you stay in the area -- you'll have to get to the pick-up points, of course -- but here's a little something extra: The Visalia Holiday Inn is now offering a Sequoia Car-Free Getaway Package through Sunday, Sept. 9. There are a few parts to it, but the headlines are a room, two admissions into the national park, and a ride into the park and back to the Holiday Inn. Rates start at $139 per couple. Want to know more? Ring the hotel and name the package for details. And, most of all, if you're not driving when you first see a sequoia, give it your full attention and focus. Honest, there's probably no way not to.