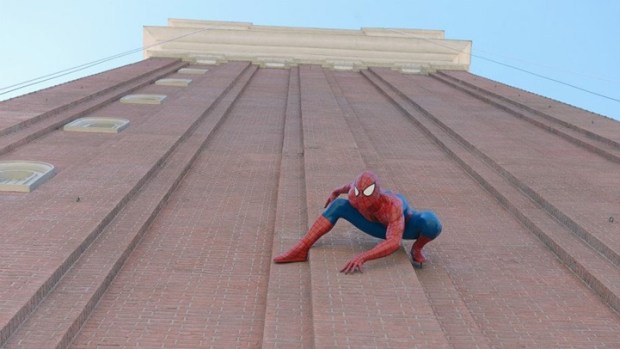 Bryan Steffy
Spiderman made a splashy entrance -- or the figure of the superhero at least -- at Madame Tussauds Las Vegas. He'll be up through Sunday, May 4.
FIGURE BROUGHT TO LIFE: One of the hallmarks of the Madame Tussauds line-up of museums is that a wax figure of a celebrated actor or politician or fictional character is rarely just posed in a humdrum or run-of-the-mill way. Rather, Mae West might be seen flirting with a gentleman caller and Wolverine could be glowering and Rocky Balboa is in the ring and Beyonce is caught in mid-dance move. So what is the best option for putting the Spiderman figure on display? Sure, you could pencil in the figure's fresh debut to coincide with the opening of a major Spiderman flick -- that's always a smart move -- but you have to think outside the box. Er, building, we mean. And when the building you're in is as famous as a certain superhero, and the city, too, well, it all serves up a bit of photo-ready magic. The short of it, then, is this: The celebrated web-spinner of Madame Tussauds Las Vegas can be seen on The Venetian's Campanile Tower through Sunday, May 4.
YEP, THAT'S SPIDERMAN UP THERE... just off The Strip. He's facing down, crouch-style, which is very him. (We've never seen the legend leap off a building without first digging down a little, into his Spandex'd heels.) He's 35 feet off the ground, if you're wondering, and if you're wondering where he'll spring to next, well, it isn't the Mirage or Bellagio (though we'd dearly love to see the Marvel favorite leap across Las Vegas Boulevard in dramatic fashion). He'll "join Nick Fury in the exhibition space adjacent to the attraction's new Marvel Super Heroes 4D Experience" which takes place in a 70-seat theater. But if you're calling upon Sin City through May 4, swing by the Strip-facing side of The Venetian's iconic Campanile Tower for some prime Spiderman snapshots. Surely they'll be a crowd below, with cameras up, much as there is in the real Spiderman's life. We mean, Peter Parker is real, right? He is. Don't make us stick our fingers in our ears and "la la la" while you tell us otherwise.