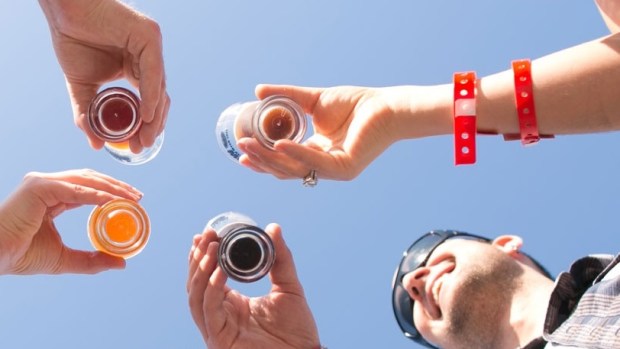 San Diego Brewers Guild
The San Diego Brewers Guild hosts the Rhythm & Brews Music and Craft Beer Festival on Saturday, May 3 in Vista.
CRAFT BEER TERMS: Beer drinkers have probably all used the terms "head" and "body" and "heft" and "palate" at some point while taking on a new ale, a beverage that requires a bit of looking and a bit of sniffing before a bit of tasting can begin. But, like wine, and the other finer comestibles of the eat-it-and-drink-it world, the sudsian vocabulary is getting as large as a first edition dictionary. Can a beer be redolent of mayonnaise? It can be. Can it be especially opinionated? For sure. Are there overnotes of lilacs in some brews? Probably. And, nope, this doesn't bring beer drinking into the realm of exclusivity. All it means is that people like to talk about and savor the sips they're enjoying, and craft brewers like to create products that have a lot of complexity and back story. And yay to that, on both counts. And where is craft kingliness reigning these days? Look no further than just about every top ten beer city list to emerge over the last few years: It's San Diego. The San Diego Brewers Guild is at the helm of the hopsy movement, and they're throwing a convivial springtime bash on Saturday, May 3.
AND THE NAME...? Rhythm and Brews which, yes, means there shall be tuneage in the house. It's happening on the "Hop Highway" of Vista, California, some 50 regional brewers shall put in an appearance (armed with kegs and small cups and friendly chitchat and such) and there will be local food. Oh, and a homebrew competition as well. Call it nice-weather goodness with a barley-flavored up-note and call it a fine way to take in a wide 'n sudsy swath of one of America's great beer towns. Need an overnight room? Harrah's has a deal on, so check it out, fancy foamists.