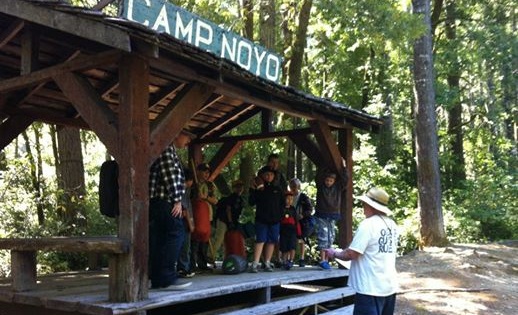 Skunk Train
Looking for a slightly different camping adventure this summer? You can ride Fort Bragg's Skunk Train into Camp Noyo.
SUMMERTIME ADVENTURE: There are industries, as in plural, as in multiple businesses, built around the notion of selling people "adventure" come summertime. Now, what adventure means to one person is not what it means to another, of course, but let's land on a common quality of all adventures had: They incorporate a new thing. Now, fingers crossed, that new thing enhances the fun, and adds something to the outing, and maybe gives the day a bit of charm and class, too. Take camping, which almost always arrives with the words "outdoor" and "adventure" attached, even if your intention with that new tent is to take it to the same spot you always visit. Spending the night in nature is adventuresome, and that doesn't need a ton of tweaking. But a nifty way to change up a favorite getaway is to change up how the getaway is gotten. In short, how do you reach that camp site? Your car, a friend's truck, or a historic fabled train that twists through the redwoods? Oh, did we just reference Fort Bragg's own Skunk Train there? Why yes we most certainly did.
THE TRAIN TO CAMP NOYO: Not only is the much-loved Skunky known for taking daytrippers on a half-day trip into the woods, it also hauls campers up to Camp Noyo, a former logging camp that's some 17 miles east of the train's origin point in Fort Bragg. Here are the key words on this adventure: The camp is "only accessible by train." Really, do you need to know more? Well, probably. It's a full service tent campground, there are barbecue opportunities and campfire rings, and working restrooms with hot showers (okay, so, yeah, you don't have to get too adventuresome in the shower-taking arena). Call it a different way to approach your al fresco sleepover, if you're an intrepid camper, and call it an ideal way for people who happen to love trains and sleeping under the stars to pair their two interests. Really, where else can you camp that's only reachable by an ol' train rumbling down the tracks? That feels like a slice of wayback Americana, and just the sort of thing to further burnish an offbeat summer adventure.