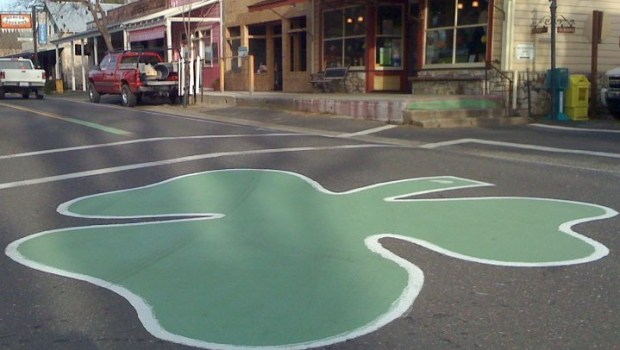 Murphys
Murphys, a Sierra foothills town known for its plentiful tasting rooms, throws a mondo shindig for St. Patrick's Day on Saturday, March 15.
SO MANY... Gold Country towns charm in all sorts of ways that are distinctly unique to them. None feels cookie-cutter-ish or same-y, even though a lot of the towns along Highway 49, or not too far off that fabled road, share pretty common pasts. Sonora is the town which every third tourist likely imagines themselves moving to one day, so charming and bustling is it. Angels Camp is the cutest, with frog imagery dotting the street signs and windows. Columbia has the historic thing going and Murphys? It just always feels like a good time is happening when you arrive. That sounds very much like bromidean brochure speak, but given that the small burg boasts a tasting room every few feet, well... we stand by our "good time" assertion. It's also on the way up the hills to the big trees, lending it an especially tree-filled feel, and St. Patrick's Day? There's always a party on, complete with a big shamrock painted in the street. It is, in fact, called Irish Day, and it is, in fact, on Saturday, March 15.
THAT'S RIGHT... March 15, not on St. Patrick's Day proper, which is a Monday in 2014. Celtic heritage is one of the stars of the day, which is all about the bagpipe-y parade, the wearing of green, pony rides, ye olde Renaissance performers, and, yes, food and wine, something the town does well all year long. It's dang quaint, is the deal, and if you love a good St. Patrick's Day but want an experience beyond the big city parade and festival, this could be your spot. Murphys is busier than usual come Irish Day, so the typical things you might do in the town might be on the busier side, but a chance to shamrock it up at one of the smallest towns to have one of the West's best St. Pat's to-dos? Yeah, we said "dang quaint" before and we stick by it.