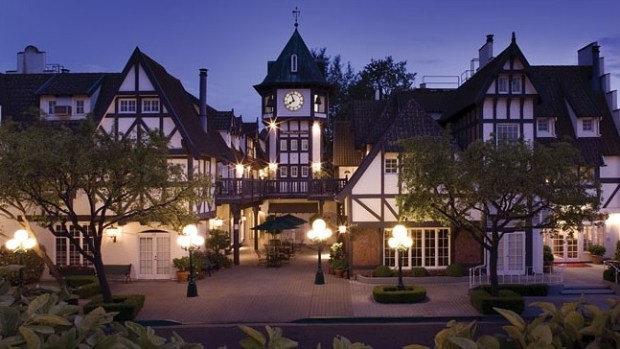 Wine Valley Inn
Headed for Solvang? The Wine Valley Inn has a sudsy, chardonnay-nice deal on through the end of March.
SOLVANG, THEN SLEEP: If you've ever visited a certain famous Danish village with out-of-town relatives, on a Saturday, you know that it is busy-busy-busy. (Yep, three busys in a row.) There's the slow drive through the splendors of wine country, and then a visit to the tasting rooms in town, to try all of the wineries you just toodled by. There's the shopping for Christmas ornaments and the consuming of sweet pastries. There's the pedaling about on a four-wheeled cycle and there's time spent wandering the Elverhøj Museum. Someone always forgets to buy postcards, so a last-minute return is made for those. It's lively, for sure, and it will be again for Taste of Solvang, one of the town's most famous celebrations. (Don't worry, Danish Days, we know you're famous, too.) And whether you're headed up for the March 15-17 deliciousness or you'd rather do the town on a quieter weekend, fret not, aebleskiver lover: There are stay-over deals. Meaning? One the car is stowed, it's stowed overnight, leaving you to stroll the village without pushing to get it all done in a few hours.
THE DEALS: Wine Valley Inn, which is about as postcard-y as all get-out, has a Dinner and Craft Beer package on through the end of March. Two suppers, two beer samples, and a room are the headlines on this one. And the King Frederik Inn, which is very much in the middle of the Solvang swing of things, has a Wine Appreciation Package through March. The Hamlet Inn, too, has built an accommodation deal around vino. Rooms go for Taste of Solvang, but going up during the week, or a later March weekend, is perfectly perfect, too. No hustle, no bustle, and no driving those out-of-towners back for the postcards they forgot to buy.