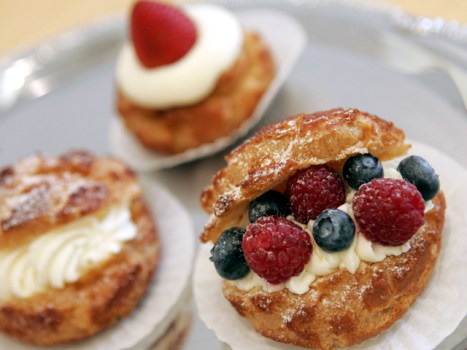 AP
Solvang and pastries go hand-in-bun. Get up to the village for the Dessert Reception on March 15, the opening night of Taste of Solvang.
SERIOUSLY SWEET: Why do we love Solvang so much? Oh, there are many reasons. That certain Solvangian light that's just different from Buellton or Santa Barbara or Los Olivos (all of which boast very fine sunbeams of their own, of course, but Solvang sunlight feels specific to us, as if it is chardonnay-hued). We like the windmills and the shops full of little ceramic windmills and the windmill postcards and the many nice wine tasting rooms, too. But the reason we want to hug the most Danish-nice spot in America is it takes dessert seriously. Very seriously. Sweets are big business for the small village, from aebleskivers to ice cream, and Solvang is not afraid of putting what's usually found at the end of a meal out in front. Look no further than the Taste of Solvang, which throws a dessert reception on its opening night. That's pretty bold, yes? Scheduling the meal's final course for the opener? But the whole weekend is full of bold tastes, many of them found in...
THE WALKING SMORGAASBORD: The big Saturday centerpiece of Taste of Solvang is a true sup-and-stroll affair. Over 40 places around the village will offer up bites for people looking to get a flavorful overview of Solvang's restaurant scene. But here's the deal on both the opening-night dessert reception and the Walking Smorgaasboard: They're popular. So popular that they can and do sell out. Which is why we're here to tell you that tickets are now on sale for the March 15-17 foodie celebration. Should we add that there's a wine tasting room to-do on Sunday, March 17? St. Patrick's Day in Solvang? That's sounds as sweet as chardonnay-hued sunshine to us.