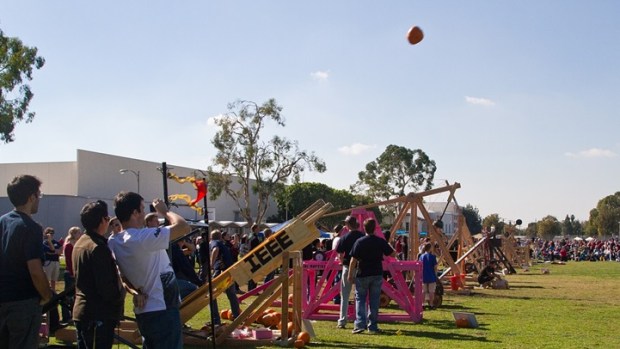 Pumpkin Launch
Want to see pumpkins sail high through the air? Make for Fullerton on Saturday, Nov. 2.
TRUTH TIME: There are many wonders in this world, but there is perhaps no wonder equal to seeing an eleven-pound pumpkin hurtling with speed and force through the air, briefly, before it smashes seedily upon the ground. Cars may one day hover and time travel may be possible and people a thousand years in the future will still gather on the edges of a field each and every fall in order to witness this one-of-a-kind sight. So beloved is the autumnal pumpkin launching fandom that events spring up across the country, many with cute names like "punkin chunkin" or similar. Southern California has its own, and the two forces behind it are brimming with brain power. On the one hand you have the Cal State, Fullerton College of Engineering and Computer Science, and on the other hand you have the Discovery Science Center of Santa Ana. Oh yeah, with this team-up you know the chunkin of punkins shall be extreme. Intrigued? Then be at CSUF on Saturday, Nov. 2 for the 6th Annual Pumpkin Launch.
LAUNCH LOGISTICS: It really is all about the trebuchet, and its offbeat, pumpkin-ready engineering, when it comes to sending squash high into the air. You'll see plenty of "homemade" machines, all handles and launchers, and you'll witness a number of pumpkins in flight. Visiting kids might be inspired, and, if so, they'll be able to build small trebuchets, the kind that can launch marshmallows and candy and such. And, of course, they'll leave with a most excellent souvenir: the spirit of science and innovation. One of the goals of the day is to inspire young people and show them the fun behind engineering and the scientific pursuits. But, yeah, there are many laughs to be had, and pictures to be taken, and a lot of pumpkin guts to mop up. Leave that to the CSUF students and Science Center volunteers, though; your role is simply to enjoy a wacky but big-brained fall tradition, in all of its chunkin glory.