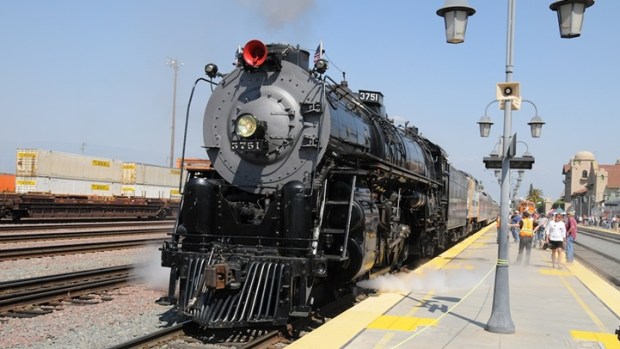 Railroad Days
San Bernardino Railroad Days feature a pretty excellent treat for people who like their trains old-timey: a steam-powered ride aboard vintage cars. It's happens on Saturday, April 27 and Sunday, April 28.
A VINTAGE JOURNEY: California is home to several truly fine historic engines that make year-round or frequent seasonal runs. Among them? The Skunk Train at Fort Bragg, the Fillmore & Western near LA, and the Sierra No. 3, which runs through the low foothills of Gold Country each and every spring and summer. But shorter rides do spring up, and sometimes they're pretty intriguing. The steam-powered journey of San Bernardino Railroad Days is set to make a trip from LA to San Bernardino on Saturday, April 27 and then back again the other way on Sunday, April 28. What's at the lead? A 1927 Santa Fe Steam Locomotive. What's in the rear? A half dozen private passenger cars. Five of them were built between 1937 and 1959, and the sixth is an Amtrak Horizon fleet chair car constructed in 1988-89. In short, you can almost handpick the decade you want to travel inside. The names of the cars, by the way, all are pretty novel-ready: Overland Trail and Tioga Pass are two of the monikers. A ticket starts at $70.
MORE OLD-TIME STEAM: The Sierra No. 3, which has been in literally dozens of movies, is another steamer that's running weekends now that the weather is warmer. Jamestown is the place -- so Gold Country -- and Saturdays and Sundays are the times. There are a few special events coming up, like Wildflower Trains, and a day in early August devoted to songs of the rails. Without a doubt the Sierra No. 3 is one of California's most famous train symbols, and it is known outside the state, too. Definitely worth a ride this summer, or one summer soon.