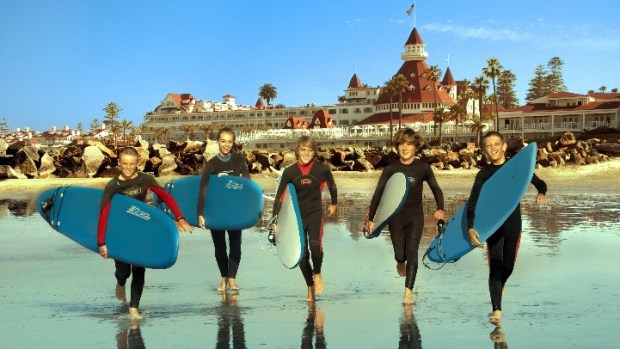 Hotel del Coronado
The Hotel del Coronado has a short summer room sale on from May 18-20, 2011.
SUMMER SHORES: When you pictures yourself at on the beach near the Hotel del Coronado (we're just assuming you sometimes do, so we're phrasing it that way), what are you doing? Granted, probably 89% of us are wearing a Marilyn Monroe-type halter dress and building a sandcastle in our Del daydream. But some people might see themselves surfing, or lounging, or flying a kite. (You can wear a Marilyn Monroe-type halter dress for the last two activities, note, though probably not the first.) Whatever your Delian warm-weather pleasure might be, you should note that a warm-weather stay at the California icon just got a bit easier. Why? The hotel has a quick sale on, and the upshot is this: Get a summertime room at a wintertime rate.
HOW QUICK? It's a fast sale. It starts on May 18 and wraps on May 20. (May 20 at 9 o'clock local time, note.) Those obviously aren't the stay dates, but you'll want to choose yours quickly (the hotel said lots of people are calling). The rates are slightly lower for May and June, vs. July and August, but you do the looking/planning. You'll also nab $25 Del dollars if you book by May 20. Oh gosh. Now we'll have to work Del dollars into our beach fantasies. Maybe we're fanning ourselves with our Del dollars, in our Marilyn Monroe-type halter dress. While surfing.