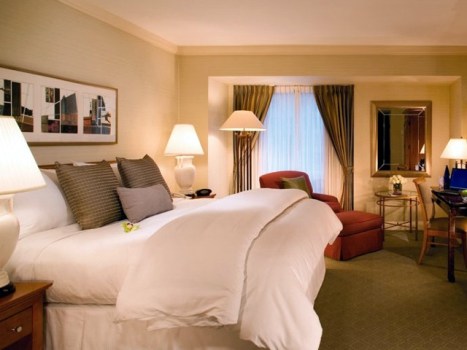 Omni Los Angeles
The Omni Los Angeles is offering a Sweet Rendezvous package through mid-January 2012.
SUNRISE SIP: The words "signature morning cocktail" can truly make one stop and pause. Sure, plenty of restaurants and hotels have a special drink they're known for, but we'll wager that that drink doesn't get poured before 5 p.m., typically. A signature morning cocktail, however, is an entirely different animal. If you read those three words, you're probably reading them inside a hotel, and a swanky hotel at that. And if you're in Los Angeles, you're likely at the Omni at California Plaza.
SWEET RENDEZVOUS: The bubbly-ish bev is part of the Sweet Rendezvous Package, which has plenty of Valentine's-y touches, but you should note it is actually running through the first part of January next year. In case your February is looking a tad busy, as February can. (The year really gets going now, it seems.) There are other adds in the package, a "romantic" turndown service, late checkout (if pos.), and a deal for getting-engaged couples (you must get engaged over V Day weekend; details). Read on, lovers; price is $298 and up.