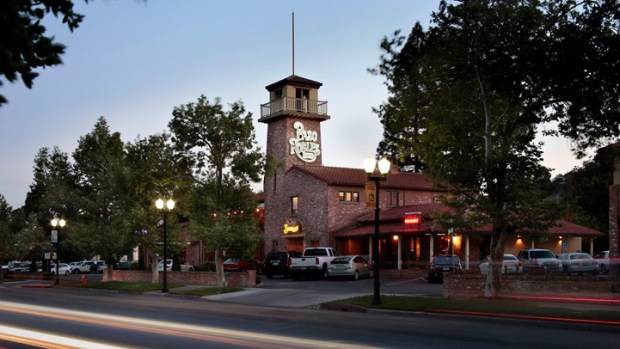 Paso Robles Inn
The historic and recently refurbished Paso Robles Inn will participate in the city's Hotel Month. It's on during February 2014.
RESTAURANT MONTH... starts it all, it really does. Well, it's at the start of the year, when we're in the mood to begin new habits and trends and ways of doing business (and by business we mean "life"). But Restaurant Month, which happens around California as well as several cities and counties during January, has a way of filling the head with fanciful longings and ideas. One such idea is this: There are eleven more months in the year, it's true -- we didn't shock you there, right? -- and there are so many businesses people love to patronize beyond restaurants. Why couldn't there be an Olive Mill Month? Or a Gelato Month? Or, to grow a bit more general and encompassing, a month devoted to deals among hotels and bed & breakfasts and inns? There is indeed that time period, in Paso Robles, at least, and it falls in February. The name? You'll remember it, we bet: Hotel Month.
FEB. 1 THROUGH 28: The Paso Robles Hotel Month does indeed run for all of the second month of the year, and numerous stayover spots around the Central Coast burg'll line up the deals. Like? Well, The Adelaide Inn'll give five-buck coupons to Margie's Diner (they call it a "locals' favorite," so yay that). Wine-tasting tickets to area vineyards'll be handed out, too. And over at the historic Paso Robles Inn? A stay in a Deluxe Spa Room nets you "complimentary tastings and corkage on your first bottle of local wine at the Robles Inn Steakhouse. Meanwhile over at The Oaks Hotel -- the city's newest hotel entry -- there's a 10% off dinner deal in play during February. As with any sweeping discount/offer month, asterisks shall be and are present, so study up. Then sip up, in Paso, during one of the most uncrowded times of year. Hey, seriously though; shouldn't February be Hotel Month in every city? Every city everywhere, please address this at once. You have our gratitude.