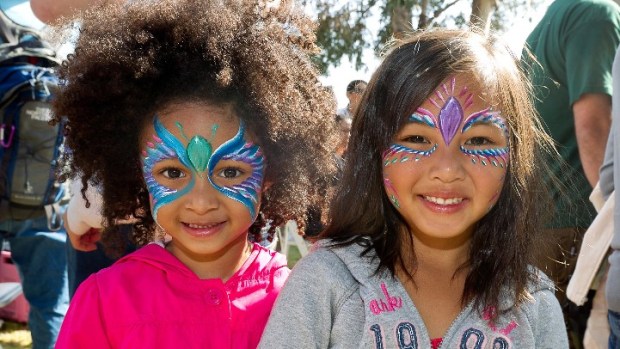 California Strawberry Festival
The California Strawberry Festival breaks out the pies, games, and, yep, cute face-painting, on Saturday, May 19 and Sunday, May 20 in Oxnard.
NOT SHY: If we were to rank various fruits on their pop culture presence we'd have to put the strawberry at the top. Well, maybe second to the top; it is hard to outdo the apple for star wattage (hi, Snow White, we're thinking of you, and myriad other tales through the centuries). But the vaguely triangular, green-topped, highly seedy berry? We've seen it smiling out at us -- actually smiling -- from cereal boxes. It appeared in little Cindy Lou Who's eye in "Dr. Seuss' How the Grinch Stole Christmas." There's the Fab Four's "Strawberry Fields Forever." And then there's Miss Strawberry Shortcake, who is so affiliated with the tasty fruit that it appears both on her clothing and in her very name. So when we weigh whether the annual California Strawberry Festival, which is one of our state's largest fruit-oriented parties, is a biggie, we direct your attention to the berry's continuing bigness in all matters. In other words, yes. It is quite the festival.
AND THE DATES ARE... Saturday, May 19 and Sunday, May 20. The place? Oxnard, natch. And the sweet haps are plentiful. There are pie-eatin' contests -- yeah, we said "eatin'", not "eating" -- and kid rides and a strawberry tart toss and live music and cooking demos and the Berry Blast Off recipe contest. In short, while it is big, the fest still has loads of downhome, family-time charms. Cost is twelve bucks per grown-up -- kids' tickets are a bit less -- and there's parking to pay, too (but a free shuttle is a choice, so read all before Oxnarding it). Best of all? The festival regularly raises a lot of money -- over $3.5 million to date -- for area charities. Now that's sweeter than a strawberry, for sure, and not much is in this world.