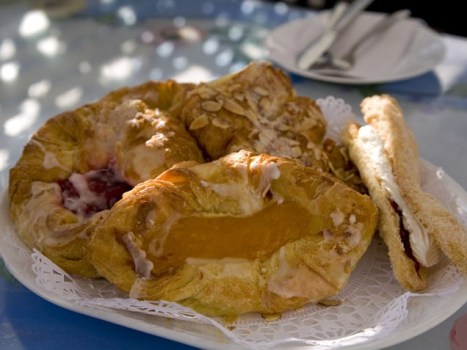 SolvangUSA.com
Solvang offers a Sweet Treats Trail map.
MMM, MAP: When you think of trails, and you think of sugary goodies, do Hansel and Gretel spring to mind? Of course. But while the two fairy tale youngsters were looking for a way back from the candy-covered house in the woods, visitors to Solvang are looking for the treats themselves. Good thing then that the good people of Solvang have created a Sweet Treats Trail map. It's a handy guide to all the aebleskiver-ish edibles that the small, windmill-y burg produces.
A DOZEN+ SPOTS: Just Baked! is on the map. So is Danish Mill Bakery. So are about a dozen other places. It's a PDFer, so print that baby out, and get walking. Walking and pastrying go very well together, we find. Plus, getting to know the bakeries ahead of Taste of Solvang, which runs March 18 through 20, can only be good practice.