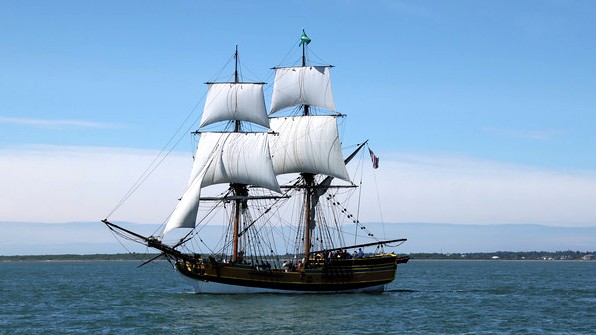 Ron Arel, Coastal Images
The Lady Washington, along with the Hawaiian Chieftain, will be in Ventura through Monday, Feb. 6.
A GOOD THING: One of the most excellent feature of a ship is that it sails -- we didn't need to put "spoiler alert" ahead of that, did we? -- meaning that if you miss a beautiful vessel in one port all you need to do, very often, is move up or down the coast. If that ship isn't heading to open sea, and it has other stops, you're bound to see it again. That's exactly what has happened with two renowned tall ships. The Hawaiian Chieftain and the Lady Washington recently enjoyed an extended stay in Newport Beach (during some of that fine early January weather; the timing all worked out rather well). Now the ships, which are typically based in Washington State, are heading back up the coast. But first, a stop in Ventura Harbor. More than a stop, really; call it a long layover, complete with the famous tall ships-style Battle Sails. They arrived on Jan. 24 and will be in town through Monday, Feb. 6.
ON THE CALENDAR: Dockside tours are on every day but Monday (though weekend hours are longer). And both Adventure and Battle Sails are on each weekend day. There's also a Civil War reenactment going on on Jan. 28 and 29. No need to wear your breaches to board a Battle Sail or take a tour, but bet there will be people on deck in the spirit. After all, the Lady Washington is a bit of a movie star, having appeared in "The Pirates of the Caribbean: The Curse of the Black Pearl."