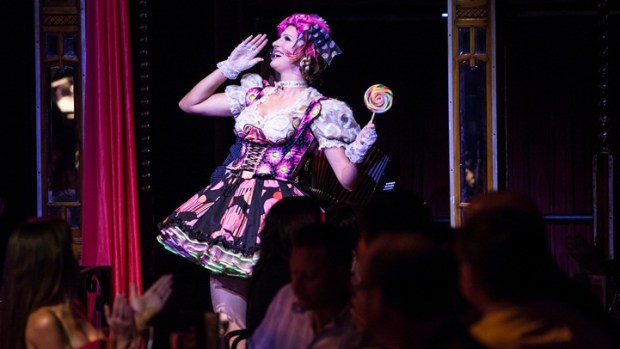 Mark & Tracy Photography
The whimsical Teatro ZinZanni is making merry at the Segerstrom Center for the Arts through Feb. 17, 2013.
A GIFT FROM THE NORTH: We here in Southern California have happily borrowed many a wonderful thing from the cities above us on the map over the years. Fancy coffee from Seattle and rock bands from San Francisco and all of the other good things those burgs have to offer (and there are many). We're still waiting on the City by the Bay to loan us the Golden Gate Bridge for a couple of days, but no offer has been extended, so we're out of luck. (We'd take really good care of it down here, swearsies.) But SoCal is enjoying an import from the north these days, at the Segerstrom Center for the Arts in Costa Mesa. It's Teatro ZinZanni, an antics-rich confection so whimsical it comes with not one but two capital Zs in its name. And while it is very much associated with San Francisco -- how many of our pals have come back from a weekend away talking about the show? -- it was born in Seattle in the late '90s. Those two West Coast S-name cities have long kept this acclaimed vaudeville-and-supper show to themselves, but now they're sharing with us.
TEATRO AT THE TOP: Without too many spoilers, think of Teatro ZinZanni as a spirited, tasty, old-time circus spectacular with plenty of audience interaction, zany twists and turns, gorgeous costumes, and performers skilled at acrobatics and snappy dialog. One of the well-known twists of the show is that dinner is served, so spectators are not in a stationary or passive position while watching; they're eating. It all adds to the atmosphere of merry madness and vintage high jinks the show conveys. It's a nice holiday treat, for sure, either before the end-of-the-year or after: Teatro ZinZanni is on at the Segerstrom through Feb. 17, 2013.