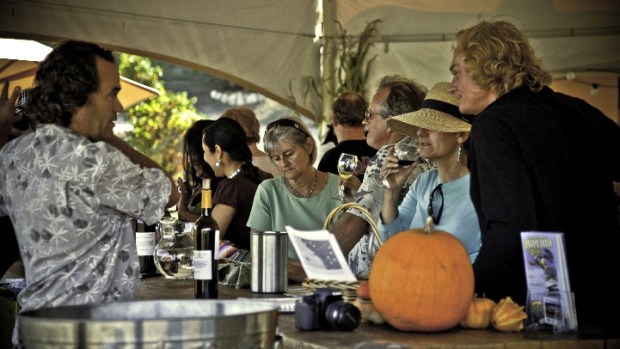 Temecula Harvest Celebration
Temecula Valley's Harvest Celebration Barrel Tasting fills the glasses on Saturday, Nov. 3 and Sunday, Nov. 4.
WINERY 101: Everyone likes to do a day out in wine country in a different way. Some like to grab a designated driver friend -- a friend who will be treated to a very nice dinner later that night, we expect -- and visit as many wineries as possible. Some people like to call upon three or four favorites, where they can go deeper. They like to linger in the gift shop and take a tour and try more vintages beyond the one or two. But pretty much everyone, regardless of wine-tasting style, can agree that a full-scale harvest celebration is very often the way to get to know a lot of labels in a little time. That's because during a harvest party it is truly all on-hands-on-deck; every participating winery is operating at peak guest-welcoming level, and there are typically other treats in store, too, from tasty appetizers and samplings to entertainment. Temecula Valley's Harvest Celebration falls a little later on the wine country calendar, or maybe it is merely perception that September and October are the bigger months. The Temecula weekend is set for Saturday, Nov. 3 and Sunday, Nov. 4.
35 WINERIES: The numbers are probably the easiest way to look at the big weekend: Some 35 wineries will be pouring; a $99 passport gets you in to all of them over both days. Good? Good. There are also other things to consider, like booking passage on the Grapeline Country Shuttle. Other tidbits catching our notice: There will be "in-the-tank" tastings, meaning you'll sample vinos not yet for sale. (You won't actually be in the tank, we'll note.) Non-locals can get a Sunday ticket for $79, and designated drivers are $59. And there are stay-over packages, too, which is a responsible option. In short, it is a big, wine country-wide party, a way to fete both the end of a busy season for the vintners and the wine lovers who support them. It's definitely win-win.