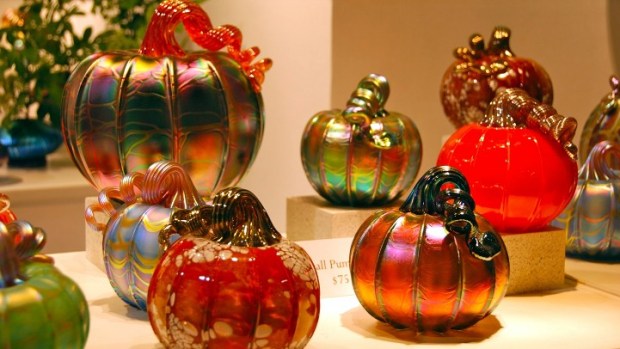 Harvest Festival
The gift-packed Harvest Festival is making its way to several Golden State cities over the 2012 fall.
COZY YET NOT: When one thinks of a traditional harvest festival, one might think of a yard near a school, done up in pumpkins and candy apple booths, or perhaps a town square. (Yep, those are pretty cinematic visuals, but ask anyone and those will likely be the pictures that spring to mind.) It's also a one-night-only party, or perhaps the sale will last for a full weekend. All in all, it presents a cozy picture, scented with spice, and it is well-lodged in our heads as symbolic of a harvest crafts affair. But the Harvest Festival, which is billed as the Original Arts & Craft Fair, is kind of on the opposite side of the spectrum from this scene. How so? It runs for thirty days in a total of ten cities in three states. Hundreds of artisans and cooks and woodworkers and knitters and photographers helm the booths. And the items for sale reach toward 25,000 in all. Nope, it isn't the town square, one-night-only fest, but it is a fine way to shop for the holidays and holiday-type stuff during the fall.
THE CALIFORNIA CITIES: The Golden State boasts the bulk of the Harvest Festival's tour, with Pleasanton, San Mateo, Ventura, and Pomona all on the list, as well as a couple more, including our capital. It's a ticketed show, so before you go you might want to nab your admission online, or at least check the price. There's usually some food trucks or carts, and some entertainment afoot as well. So, what do you need? A jewelry box for your aunt? Some ornaments for yourself? Some chili mix for your sister? It's probably all somewhere within the fest. Most of all, it truly summons some fall feelings, if you're ready to leave the swelter behind and pretend the leaves are falling.
HERE ARE THE DATES:
2012 Fall Shows

Las Vegas, NV
Cashman Center
September 7-9
Pleasanton, CA
Alameda County Fairgrounds
September 14-16
Ventura, CA
Seaside Park at
Ventura Co. Fairgrounds
October 5-7
Anaheim, CA
Anaheim Convention Center
October 12-14
Del Mar, CA
Del Mar Fairgrounds
October 19-21
Phoenix, AZ
Phoenix Convention Center
October 26-28
San Mateo, CA
San Mateo County Event Center
November 9-11
Sacramento, CA
Cal-Expo Pavilion
November 16-18
San Jose, CA
San Jose Convention Center
November 23-25
Pomona, CA
Fairplex Bldg 4
Nov 30-Dec 2