worth the drive
The 2014 Pageant of the Masters Theme Is...
Love Laguna Beach's staying-still spectacular? Tickets go on sale soon.
Saturday, Nov 9, 2013 • Updated 8:02 AM PDT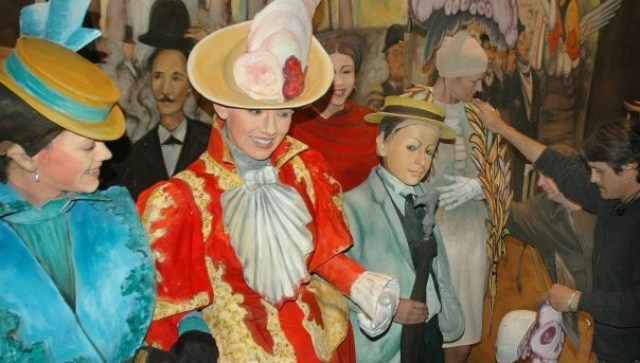 Pageant of the Masters
A look back at a previous Pageant of the Masters. Want to see the 2014 extraganza? Tickets for "The Art Detective" go on sale on Sunday, Dec. 1.
STILLNESS AS ART: Quirky events are, well, offbeat, while venerable and elegant happenings are, wait for it, venerable and elegant and revered. There isn't a lot of crossover between the two concepts; the stranger cultural doings tend to be known for their more narrow (but nifty) appeal while the bigger, posher to-dos are famed for a certain fanciness. There are a few notable exceptions, however, and at the top of the hallowed heap is the much-loved, eight-decades-along Pageant of the Masters. The Laguna Beach-based summertime spectacle is so revered and so quirky that it is both attended by people in gussied-up going-out togs and it has been satirized, with affection, by "Arrested Development." Seriously, you can't make that in any lab or invent it whole cloth. Being both things has to be earned, and the people-posing-inside-paintings extravaganza has more than garnered that unique privilege. It's set to roll -- or stay still, rather -- again on July 9, 2014. But tickets go on sale to the general public on Sunday, Dec. 1.
NOW ABOUT THE THEME: One of the more traditional and twinkly aspects of Pageant is that each year it takes on a new theme. The 2013 production paid tribute to Hollywood, and the 2014 outing? "The Art Detective." Yep, "lost treasures" and discovery are on the docket, assuring prospective audiences that a few found-again masterpieces will be saluted. Oh, and of course, "The Last Supper," too, which is the traditional closing painting of the show. Never seen the quirkiest of California traditions? It's pretty much a must. If you, too, are a bit of a gumshoe when it comes to missing art, the upcoming theme is worth framing.
Copyright NBC Owned Television Stations