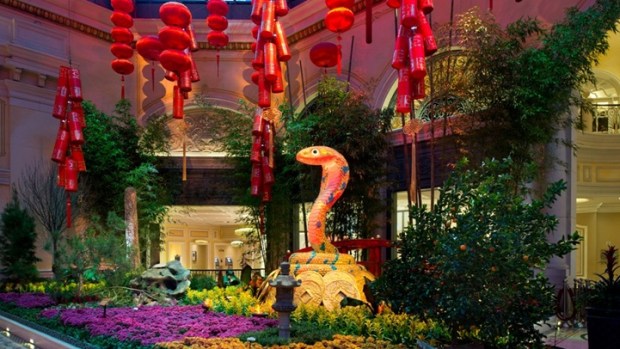 Bellagio
The Bellagio's Conservatory & Botanical Gardens welcome the Year of the Snake through Sunday, March 3.
AMAZING ANIMAL: The Bellagio is fairly famous in the "pulling out all of the stops" department. Exhibit A? Look no further than its front fountains which, we've heard, inspire a Las Vegas visitor or two to pause and admire at least once or twice a day. Oh, we jest; the Sin City landmark's watershow is one of the calling cards of a town flush with calling cards. So when one enters the swank, Strip-center hotel, one is apt to see more stops being pulled out. Exhibit B? The Conservatory & Botanical Gardens. You can't read a "top ten free things to do in Las Vegas" list without seeing this flowery space on it. And it delivers throughout the year as designers and gardeners change out its elaborate look and themes. Probably our favorite, and many a person's favorite, is the Chinese New Year's garden, which recently debuted at the Bellagio. Sure, we love the holidays and Independence Day in the glass-roofed space, but we really like seeing how designers imagine the star animal of the new year.
AND THAT IS... the snake. He's looking quite majestic, as he should, given that we're entering the Year of the Snake. His "5,000 blue and yellow luminescent scales" lend to that majesty, as does his larger scale. There are many lovely features in the Chinese New Year garden to admire, though. An 18-foot-tall money tree is one, as are the 384 super-big golden coins found around the greenery. The incense, complete with wispy curlicues of "smoke," charm as well.