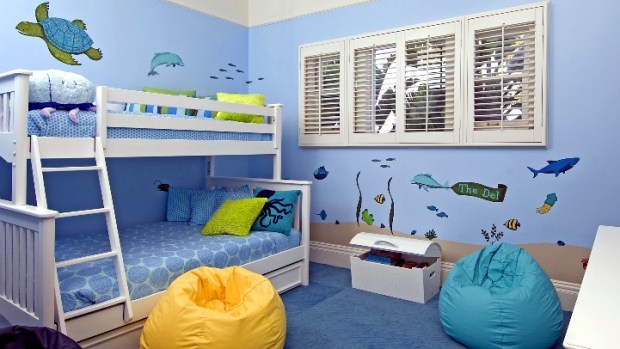 Hotel del Coronado
The Hotel del Coronado's Blue Octopus Family Suite debuted in spring 2012.
AN ACTUAL JUNIOR SUITE: Plenty of hotels bandy about the term "junior suite." And that's a-ok. After all, it means that the room is somewhere between a standard and a full-on deluxe suite. Some properties might have their own take on that, and quibble with us plunking the J.S. right between those two things, but let's leave it at that and move onto a whole new take on the term. What if a Junior Suite actually mean -- now wait for it -- a suite for junior? A hotel kid's room? It's an unusual idea but clearly a concept that fits, given the growing trend of making the family vacation a longer and more deluxe. The Hotel del Coronado has created just such a room as part of its recently debuted Blue Octopus Family Suites.
SWEET SEA LIFE: Full admission? We're not a kid but we kind of want this room. It's blue and oceany and the underwater creatures float on the walls. The kid's room of the Blue Octopus also includes bunk beds and bean chairs. Think back to when you traveled with your own parents; would you have absolutely squealed to see squishy chairs and a bed with a ladder? In a hotel? Unheard of. The full suites run 900 square feet, meaning everyone in the group has a bit of space to spread out. We're hoping here that more hotels create rooms just for tots, with whimsical themes and fun furniture. And if any hotel room, be it for kids or grown-ups, has an octopus on the wall, we're sold. For more info on the Blue Octopus Family Suites and all the Del's rooms, take a swim around the grande dame of Coronado's site.