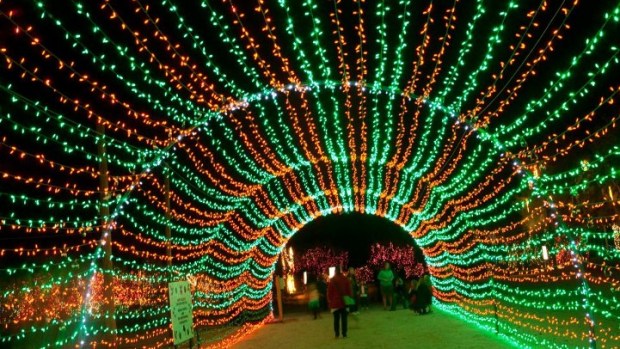 The Living Desert
Wildlights at The Living Desert opened on Wednesday, Nov. 21.
A DIFFERENT GREETING CARD: If you've grown up in the desert, or lived in the desert for many years, you know it can be a bit funny, and slightly repetitive, to see the same holiday imagery again and again. A cabin in the woods, covered with snow, a sleigh, some fir trees, a pond for ice skating. Those things have represented the yuletide in American pop culture for many years, even though there are other as-twinkly scenes that summon the spirit of the season. Like? A cactus lit up in small white lights, or succulents back-dropped by a twinkly scene. With that in mind, we do love when people of the desert do it up for the holidays, wrapping saguaros in tiny bulbs or setting up over 750,000 lights for visitors to admire. Okay, that last example isn't a private home, of course (although given the holiday decorating craze, we wouldn't be surprised). It is The Living Desert, Palm Desert's own cactus-dotted animal park. And it's annual holiday nighttime glow-a-thon, The Wildlights Festival, kicked off on Thanksgiving eve.
750,000+ LIGHTS: We thought we'd type that again, since that is definitely one of the headlines of Wildlights. Picture three quarters of a million bulbs all asparkle in a gorgeous, semi-arid setting; now that, to us, would make a particularly beautiful greeting card. There are new displays this year -- year 20 for Wildlights -- plus international eats for sale and some kid to-dos, too. It's a popular visit for out-of-towners visiting their desert kin, but we like to remind anyone vacationing in the desert in December -- a rather popular month to do so -- that Wildlights is on. It's not on every night, note, so plan your schedule. Twinkle twinkle desert star.