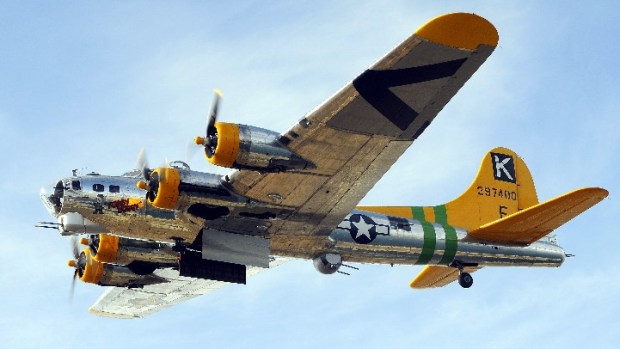 Lyon Air Museum
A Boeing B-17 Fortress Fuddy Duddy will fly near John Wayne Airport on Saturday, Feb. 11.
AIRBORNE ARTIFACT: While history buffs usually have a favorite type of memorabilia -- be it a particular type of phonograph from the '30s or a porcelain doll or funky metal lunch box -- we can all agree that seeing a memento actually do what it used to do is a thrilling thing indeed. And when that artifact just happens to be a mega machine sporting four propellers, each over 11 feet in diameter, well, watch the crowds gather. That's what is going to happen at John Wayne Airport on Saturday, Feb. 11 when the Boeing B-17 Flying Fuddy Duddy goes for lift-off. If you know your planes, you know the Fuddy Duddy is a big'n, and you know it played a major role in World War II. So look for both aviation fans and war history scholars to be on the ground looking up.
THE DUDDY'S DETAILS: The plane is normally based at the Lyon Air Museum in Santa Ana; the aviation institution calls the plane "the most powerful bird in the Lyon Air Museum's collection." It sports four 1,200 horsepower engines, in fact, so that is no understatement. This particular Fuddy Duddy has an interesting history -- well, probably like every WWII plane still in existence does, of course. It was a "VIP transport" in the Pacific during the war, and it went on to be featured in a Steve McQueen film. The exact time the plane'll take flight on Feb. 11th isn't listed, but the hours of the event are 10 a.m. to 4 p.m. Arrive early, we say, and stake your ground. Then, look up.