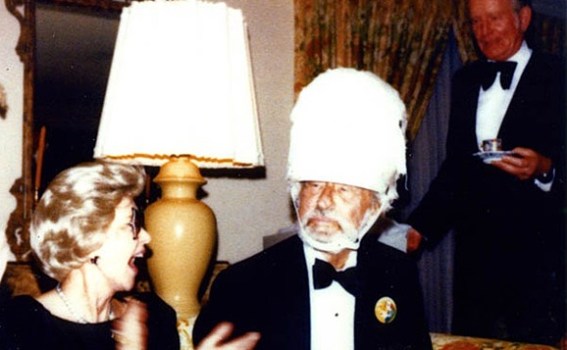 Hats Off to Dr. Seuss
A traveling collection of Theodore Geisel's beloved hats will make several California stops over the course of 2013.
THE CAT'S BAG: If you had to name the most famous story in the world with "hat" in the title, chances are 10 out of, oh, 10 that you'd likely land upon "The Cat in the Hat." It's a book that's been translated into dozens of languages, inspired cartoons and a live-action film, and it has helped millions of wee ones drift off to sleep at night, comforted that mischief can indeed have its day (if the house is cleaned up by the time mom gets home, that is). The creator of this known-by-everyone-everywhere story is not only in the pantheon of Great Children's Authors, he practically designed and built the pantheon itself. It's Dr. Seuss, of course, or Theodore Geisel knew him personally. (If you've lived in La Jolla for much of your life, you might have.) Mr. Geisel -- or, er, Dr. Seuss -- was a fan of hats, it probably won't surprise you to learn, and it was no accident that his most famous feline strut about in a rather tall example of the fashion. The author and artist owned quite a few head-toppers himself, some that likely inspired the rather fabulous creations we've seen in his pages; think ladies with wild feathers springing from their heads and the red stove pipe from "Green Eggs and Ham." Now those chapeaux are hitting the road for a multi-city tour, the first time Dr. Seuss's private hat collection has been exhibited.
CALIFORNIA STOPS: The man, the legend, and the drawer of whimsical things was a Golden State resident for a good while, so the fact that there will be several stops along our long state make sense. (Actually, now that we think about it, California rather does have the same shape as the Cat in the Hat's hat.) San Francisco's up first in March, then Menlo Park in late April, then onto Laguna in mid-May, with La Jolla and San Diego stops later in the summer. The hats'll run the gamut, and while they won't be quite as outlandish as what you've seen in the illustrations, you know that Dr. Seuss has a flair for fantastic fashion in his personal wardrobe. Some "Secret Art" will also be exhibited alongside the 26 hats, meaning fans'll be making the journey to see this show, some, perhaps, over several stops.