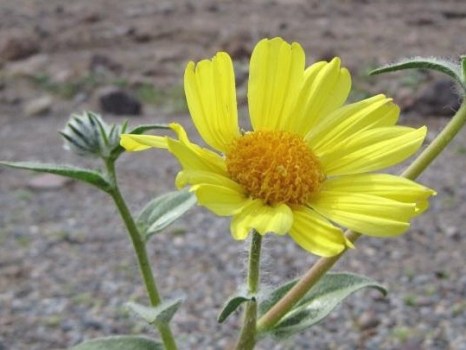 Xantera Parks & Resorts
March means flowers popping up around Death Valley.
DESERT GOLD: Remember the spring of 2005? Copious amounts of desert rain had produced fans of flowers in one of the lowest and driest places on the planet, and hordes of happy flower lovers were in photo-snapping bliss. And while 2011 isn't 2005 in Death Valley, that's okay. There are still buds to admire, as there are every year, but the crowds won't be quite as prone to pulling the car over suddenly upon spying a fresh field of pink flowers.
THE LATEST: Word from the Furnace Creek area is that Desert Gold is popping up near Ashford Mill (north of Ashford Mill, actually, but you'll want to check in with the people of Furnace Creek or the ranger station when you arrive, for more specific details). Nope, it isn't six years ago, but the flowers blooming now don't know that. They may not be popping up in huge numbers, but even one delicate posy in Death Valley is a sight to behold. You can keep watch at the National Park Service site.